AB 556: A Budget-Busting Nail in the Judiciary's Coffin?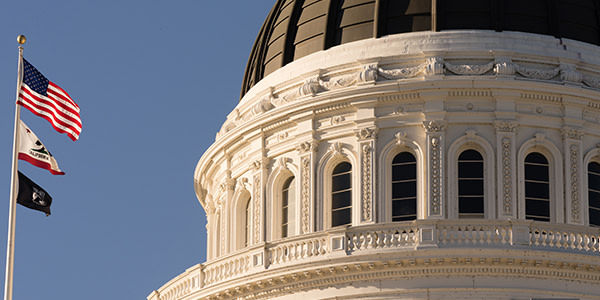 Last year, Governor Brown announced $544 million in budget cuts for the California court system. This was in addition to $650 million in cuts imposed over the three preceding years. Every court in the state had to make compromises, including shuttering a number of courthouses in Los Angeles County.
In Placerville, the local court found a quick way to save $60,000. They would cut their permanent ten-person court reporting staff and replace it with private contractors. Obviously, no one was happy about the job cuts, but the court administrators argued that it was a matter of necessity. Unions told Courthouse News Service that they had offered to cut salaries by 32 percent, and offered other concessions, which would have eliminated the cost disparity.
Nonetheless, the jobs were cut. Shortly thereafter, AB 556 was introduced. And while this piece of legislation seems to have been borne from good intentions, many are arguing that it will cripple an already-reeling court system.
The Trial Court Employment Protection and Governance Act
What does AB 556 do? It requires courts to prove that outsourcing tasks to private contractors will save money for the duration of the entire contract, would impose heavy auditing and reporting requirements, and would apply to all tasks "currently or customarily performed by that trial court's employees."
That sounds semi-reasonable, right? We don't want jobs cut unless it's a matter of necessity, and unless it actually saves money.
The bill also requires that the "contractor's wages are at the industry's level and do not materially undercut trial court pay rates." The contracting also "shall not cause an existing trial court employee to incur a loss of his or her employment ... a reduction in wages, benefits, or hours, or an involuntary transfer to a new location requiring a change in residence."
This is where the bill essentially kills all outside contracting. If you can't terminate permanent employees, that limits contracting to new positions (unlikely, considering the budgets have no room for expanding the labor force) or replacing retirees. Plus, any outside contractors have to be paid at the market rate, which means there is almost no scenario in which a court would save money by hiring contractors.
Should Governor Brown Veto?
Who's asking? Obviously, the unions are in favor of this law, as it protects their constituents. Editorials from a number of newspapers, including the Press-Enterprise and The Press Democrat, call for a veto.
Cory Jasperson, director of governmental affairs for the state Judicial Council, called the bill's conflicting mandates of proving cost savings while forbidding lower salary a "literal catch-22," in a letter to the governor encouraging him to veto the bill, reports the San Francisco Chronicle.
The bill's sponsor, Assemblyman Bob Wieckowski, in his own op-ed for the Merced Sun-Star, argued that the bill "establishes very reasonable standards that other branches of government already must follow to ensure that when for-profit companies are hired with our tax dollars, decisions are made with cost, quality and public interest in mind, rather than cronyism."
Related Resources:
You Don't Have To Solve This on Your Own – Get a Lawyer's Help
Meeting with a lawyer can help you understand your options and how to best protect your rights. Visit our attorney directory to find a lawyer near you who can help.
Or contact an attorney near you:
Content For You