ADA Can't Save Medical Marijuana Dispensaries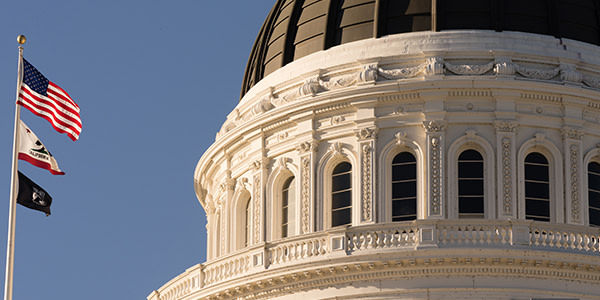 The City of Lake Forest is fighting local pot shops in both state and federal courts, with mixed results.
In February, the city had a setback when a California state appellate court ruled that "local governments may not prohibit medical marijuana dispensaries altogether, with the caveat that the Legislature authorized dispensaries only at sites where medical marijuana is 'collectively or cooperatively ... cultivated.'" In that case, Lake Forest used zoning ordinances to force the Evergreen Holistic medical marijuana dispensary out of business by characterizing dispensaries as a categorical nuisance under the zoning code.
The California Supreme Court has agreed to review the decision.
This week, however, Lake Forest won an appeal in the Ninth Circuit Court of Appeals. Tuesday, a Ninth-Circuit three-judge panel ruled that the Americans with Disabilities Act (ADA) does not protect medical marijuana dispensaries, reports the ABA Journal. Even under a doctor's care, federal law does not recognize the validity of a medical marijuana prescription
All of the plaintiffs in the case, James v. City of Costa Mesa, are severely-disabled California residents. The plaintiffs alleged that conventional medicine and treatments failed to alleviate the pain caused by their impairments, but medical marijuana helped. Medical marijuana, as we all know, is permissible under California law.
The plaintiffs obtain their medical marijuana through collectives located in Lake Forest and Costa Mesa, California. In addition to the aforementioned Lake Forest zoning ordinance, the plaintiffs must also contend with a 2005 Costa Mesa ordinance excluding medical marijuana dispensaries.
While some marijuana dispensing facilities in the towns have apparently continued to operate despite the ordinance, the plaintiffs alleged that Costa Mesa and Lake Forest police have recently raided operating marijuana collectives and detained collective members. Concerned about the possible shutdown of the collectives they rely on to obtain medical marijuana, the plaintiffs brought this action in federal district court, alleging that the cities' actions violate Title II of the ADA.
The district judge sympathized with the plaintiffs, but denied their application for preliminary injunctive relief on the ground that the ADA does not protect against discrimination on the basis of marijuana use -- even medical marijuana use supervised by a doctor in accordance with state law -- unless that use is authorized by federal law.
The Ninth Circuit Court of Appeals affirmed that decision, but not without another nod to the plaintiffs' plight. Judge Raymond Fisher, writing for the court, noted, "We recognize that the plaintiffs are gravely ill, and that their request for ADA relief implicates not only their right to live comfortably, but also their basic human dignity. We also acknowledge that California has embraced marijuana as an effective treatment for individuals like the plaintiffs ... Congress has made clear, however, that the ADA defines "illegal drug use" by reference to federal, rather than state, law, and federal law does not authorize the plaintiffs' medical marijuana use."
The courts can't resolve this issue. (You know it's hopeless when even the Ninth Circuit Court of Appeals is unwilling to buck Congressional authority.) These kinds of cases will keep popping up unless California -- either judicially or legislatively -- blocks the medical marijuana law, or the feds change their pot policy.
How long do you think it will take for the U.S. Supreme Court to resolve this problem?
Related Resources:
You Don't Have To Solve This on Your Own – Get a Lawyer's Help
Meeting with a lawyer can help you understand your options and how to best protect your rights. Visit our attorney directory to find a lawyer near you who can help.
Or contact an attorney near you: