California Redefines Rape, Imposes New Mandatory Minimums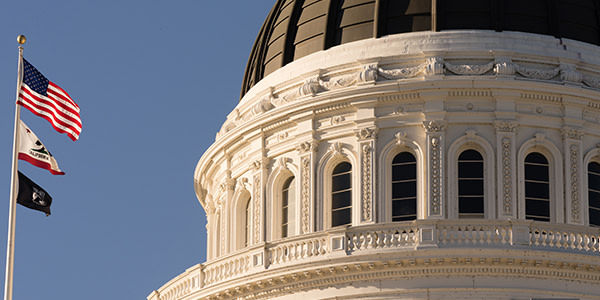 California's rape laws will change dramatically when the clock strikes midnight on New Year's Eve, thanks to a host of legislation signed by Governor Brown this week.
Earlier this week, the governor signed legislation that removes the statute of limitations for rape and other sexual offenses. Today, Brown signed two more bills, to expand the legal definition of rape and impose mandatory minimums for rape convictions. The new laws go in to effect on January 1st, 2017.
Closing Loopholes, Removing Discretion
A.B. 701, which was signed into law this morning, ends the distinction between penetrative rape and other forms of non-penetrative sexual assault. The law updates the penal code to declare that "all forms of nonconsensual sexual assault may be considered rape for purposes of the gravity of the offense and the support of survivors."
In addition, A.B. 2888, also signed into law today, prohibits courts from granting probation or suspending prison sentences when a defendant is convicted of "rape, sodomy, penetration with a foreign object, or oral copulation" with a victim that is unconscious or incapable of consent due to intoxication.
The law closes a loophole that excluded sexual assault on unconscious or intoxicated victims from mandatory minimums. Jail time was required for a defendant's use of force, but not in cases where a victim is unable to resist. As comments in the assembly floor analysis note:
Under this interpretation of the law, a perpetrator at a college party who chooses to forcibly rape a conscious victim will go to prison. However, a different perpetrator at the same party who chooses to watch and wait for a victim to pass out from intoxication before sexually assaulting her may get probation. Whether penetration is accomplished through physical aggression [force] or predatory behavior is a distinction without a difference.
A.B. 2888 removes that distinction.
The new laws are a shift away from recent trends in criminal justice reform, which have largely focused on reducing prison population and unyielding mandatory minimums. As Governor Brown noted when signing A.B. 2888 in to law, he opposes mandatory minimums but believes the law's changes "bring a measure of parity to sentencing for criminal acts that are substantially similar."
Changes Inspired by Brock Turner
Today's changes to California's rape laws were largely inspired by the controversy over Brock Turner's light sentencing for three felony counts of sexual assault this past march. Turner, a rising sports star at Stanford University, was found assaulting an unconscious woman at a party. During his sentencing, Brock submitted a statement to the judge blaming the sexual assault on a culture of "binge drinking and sexual promiscuity."
Turner's father wrote that he should not have to pay too steep a price "for 20 minutes of action in his 20 plus years of life," and lamented that he was no longer excited when his father brought him "a big ribeye steak to grill."
Turner was sentenced to only six months in jail and three years of probation, with Judge Aaron Persky explaining that "a prison sentence would have a severe impact on him. I think he will not be a danger to others."
The case gained widespread media attention and calls to reform the state's rape and sentencing laws, leading to the changes we see today.
Related Resources:
You Don't Have To Solve This on Your Own – Get a Lawyer's Help
Meeting with a lawyer can help you understand your options and how to best protect your rights. Visit our attorney directory to find a lawyer near you who can help.
Or contact an attorney near you:
Content For You