California Roundup: Fracking, Vaccines and Booze Tastings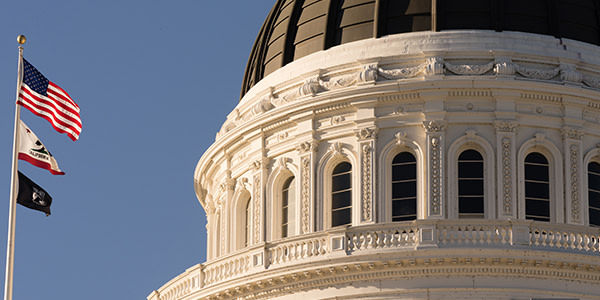 California's egg law is still causing consternation in Washington, but while politicians are fighting over the farm bill, California has moved on to vaccines, booze tasting and fracking. As we get closer to January deadlines for new laws to take effect, here's a roundup of how these law are progressing.
Get the Frack Out of Here
Governor Brown signed SB-4, which regulates hydraulic fracking, in September, 2013. The law doesn't go into effect until January 1, 2014, but last Friday, California's Department of Conservation published proposed regulations for implementing SB-4 into law. One of the key provisions is "mandatory monitoring of groundwater in oilfields," reports Reuters. Building on existing groundwater protections, the regulations will "increase our baseline understanding of groundwater," stated the department's chief deputy director.
Sip on This
Following the repeal of prohibition in 1933, with the passage of the Twenty-First Amendment, California law permitted spirit distillers to give free booze tastings. We suppose they were making up for lost drunken time, but while wineries or breweries could charge a fee for tastings, spirit manufacturers could not, reports KNTV. The law has not been updated since then.
In September of this year, Gov. Brown signed into law AB-933, which would allow distillers to charge for tastings. Set to take effect in January, spirit distillers will be able to have more control over the way they market their brands. One distiller stated, "We don't want people violating the law with any of these products ... But we do want to get them in front of people, that's what it's all about."
Vaccine Law is Backfiring
A vaccine law that was passed in 2012 may not have the full force and effect originally intended because of the wording on a medical form. AB-2019 was passed to "boost immunization rates for children in communities where vaccine rates are falling." The law requires parents who seek an exemption for their children, to be vaccinated, "to first talk with a health care provider about the risks and benefits of vaccines," according to NPR.
However, the addition of a religious exemption option on the form, which states "I am a member of a religion which prohibits me from seeking medical advice or treatment from authorized health care practitioners," may be defeating the purpose of the bill. There are concerns that parents will just check this box, to get around having to meet with a health care provider. That one sentence may end up leading to legal challenges from both, pro- and anti-vaccine groups, reports NPR.
Related Resources:
You Don't Have To Solve This on Your Own – Get a Lawyer's Help
Meeting with a lawyer can help you understand your options and how to best protect your rights. Visit our attorney directory to find a lawyer near you who can help.
Or contact an attorney near you: