California Supreme Court Facing an Ideological Shakeup?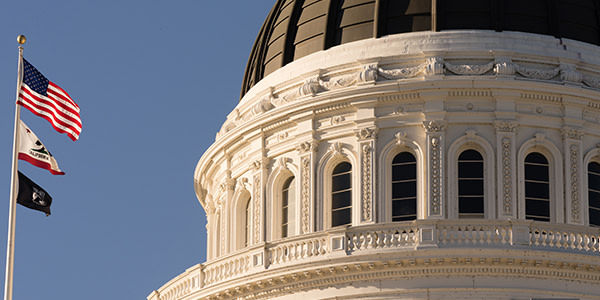 California. This state, often derisively referred to as the "People's Republic of California," has a reputation as a wee-bit left-leaning. It might come as a surprise to some, then, that the state's high court is actually almost exclusively made up of Republican appointees, and is seen by many as a moderate to conservative court.
That might be changing soon, however, with Gov. Jerry Brown expected to nab a second term in the fall. Not only does he have a vacancy to fill from Justice Joyce Kennard's retirement last week, but there are a few other spots that could be opening up during the governor's second term.
Kennard Calls it Quits
Back in February, Justice Kennard announced her intent to retire from the state's high court as of Saturday, April 5, 2014.
Though she was appointed by a Republican governor, Justice Kennard was widely regarded as unpredictable, often, though not always, siding with liberal leaning members of the court. Her replacement is almost certain to be more liberal, though the adjective "unpredictable" is often attached to Gov. Jerry Brown as well.
Balanced Court?
Though Kennard's retirement likely points to more liberals on the court, it'll take more than one spot to change the overall court's ideology. At present, there is only one Democratic appointee, Justice Goodwin Liu, who replaced the court's only liberal justice in 2011.
Speaking of court composition, the Los Angeles Times notes that the governor will face increased pressure to appoint a Latino candidate this time around, as the court is currently made up of three Caucasian and three Asian justices, and his selection of Liu over Latino candidates in 2011 raised eyebrows. Others point to other factors that need to be balanced, such as geography and expertise. None of the court's current members are from Southern California. Three of the six are former prosecutors, while none were civil litigators nor criminal defense or public interest attorneys.
Wave of Vacancies?
Kennard's retirement only opens up one seat, but what about the rest of the court? The Times notes that there are three septuagenarians on the court presently, including:
Justice Marvin Baxter, 74, who faces a retention election in November, but has not yet committed to running;
Justice Kathryn Mickle Werdegar, 78, also faces a retention election, but has committed to running;
Justice Ming W. Chin, 71, does not yet face a retention election, but has privately talked about retiring.
For those unfamiliar with California's retention elections, judges are "re-elected" every twelve years on an unopposed ballot. It would take a truly notorious scandal for a judge to lose an unopposed election that merely asks if the candidate should be retained. It has, however, happened before.
Related Resources:
You Don't Have To Solve This on Your Own – Get a Lawyer's Help
Meeting with a lawyer can help you understand your options and how to best protect your rights. Visit our attorney directory to find a lawyer near you who can help.
Or contact an attorney near you:
Content For You