California's Carbon 'Cap and Trade' Program Prevails, for Now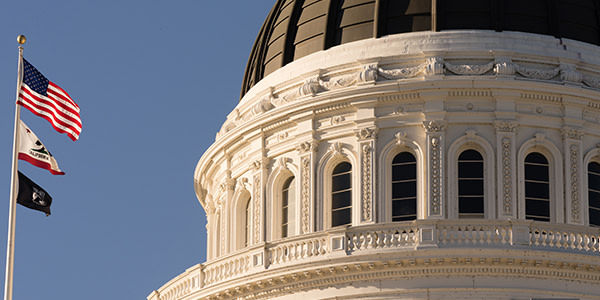 California's Assembly Bill 32, the Global Warming Solutions Act, was passed in 2006. It set the goal of hitting early 1990s greenhouse gas emission levels by 2020, and does so though a "cap and trade" system. California sets a statewide cap on carbon emissions, awards permits to affected companies, and then the companies are free to buy, sell, and trade between themselves.
There are also a number of permits that are held back. The state auctions these permits as a revenue-raising measure, with the proceeds earmarked for further efforts to reduce greenhouse gas emissions.
These auctions are the basis of two legal challenges, both defeated Thursday at the trial level, which allege that the auctions weren't authorized by AB 32, and even if they were, the regulation amounts to a tax, and is unconstitutional because it was not passed by a two-thirds majority in the legislature.
Unauthorized Auctions?
The auctions, which have been quite successful to date, raising $396 million over the first four auctions, are nowhere to be found in the legislation. Judge Timothy Frawley, however, felt that the power was implied:
"Although AB 32 does not explicitly authorize the sale of allowances, it specifically delegates to ARB the discretion to adopt a cap-and-trade program and to 'design' a system of distribution of emissions allowances."
As Reuters notes, such auctions are a common feature of cap-and-trade systems, here and in Europe. By delegating the responsibility of designing such a system, a common feature is something that was probably included in the CARB's power.
More of a Fee Than a Tax?
The much better question, however, is whether this is a tax. Indeed, Judge Frawley called it "a close question," while holding that the auctions were more like a traditional regulatory fee than a tax, reports the Sacramento Bee. A two-thirds vote isn't required for fees.
Interestingly enough, according to Reuters, the money from the auctions has been redirected, on loan, to the general fund.
Appeals Coming
When businesses are forking over hundreds of millions of dollars, you can be sure that appeals will follow.
Allen Zaremberg, president of the California Chamber of Commerce, told Reuters that he planned to appeal, stating, "It is ripe for review and reversal by the appellate court."
The Pacific Legal Foundation, which represents a number of businesses, individuals, and an organization that were all affected by the law, issued a press release also promising to appeal.
"We strongly disagree with the ruling and will appeal to the California Court of Appeal, where the appellate court will decide all issues de novo, meaning, from scratch," Senior Staff Attorney Ted Hadzi-Antich said. "On behalf of our clients, PLF will carry this lawsuit forward in the public interest."
Related Resources:
You Don't Have To Solve This on Your Own – Get a Lawyer's Help
Meeting with a lawyer can help you understand your options and how to best protect your rights. Visit our attorney directory to find a lawyer near you who can help.
Or contact an attorney near you:
Content For You