Decisions in Civil, Criminal, Family, Contract and Criminal Matters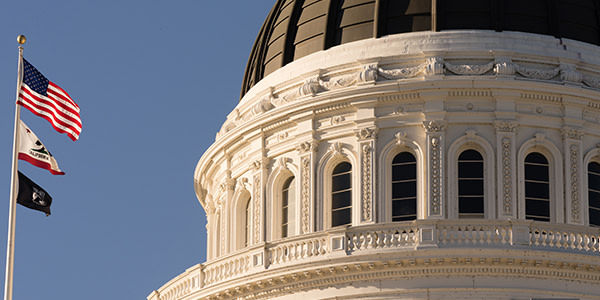 In Rossa v. D.L. Falk Constr., Inc., No.A125567, the First District faced a challenge to the trial court's denial of defendant's motion seeking recovery of interest paid on sums borrowed to fund a letter of credit used to secure the undertaking arising from a breach of contract suit. However, as Rule 8.278(d)(1)(F) of the California Rules of Court, in its current form, does not include interest as part of the cost to obtain a letter of credit, and thus trial court's denial is affirmed.
People v. Superior Court, No. B220991, concerned a People's petition for writ of mandate, claiming that the trial court exceeded its jurisdiction under Penal Code section 1054.5(c) because it was required to exhaust less drastic sanction first, for discovery violations in a murder case. In granting the petition, the court held that the trial court's orders were issued in excess of jurisdiction, and as such, trial court's sanctions order precluding the People from presenting dog scent and gunshot evidence and the witnesses' testimony at issue are vacated.
Broney v. California Comm'n on Teacher Credentialing, No. C060831, concerned a plaintiff-teacher's petition for extraordinary relief from the Commission's decision, finding her unfit to teach and suspending her teaching credentials for 60 days, based on her three drunk driving convictions. In affirming the trial court's denial of the petition, the court held that, although the trial court applied the wrong test, it was not prejudicial as it is not reasonably probable that the court would have reached a different result had it applied the Morrison test to the issue of fitness to teach instead of a per se test.
In People v. Traugott, No. E046884, the Fourth District faced a challenge to a conviction of defendant for possession of methamphetamine for sale and two related misdemeanor drug crimes, claiming that her constitutional right to a unanimous jury was violated by a verdict of only 11 jurors present. The court reversed the conviction as defendant's state constitutional right to a unanimous 12-person verdict was violated and valid verdicts were not returned.
In People v. Pelayo, No. A123042, the First District faced a challenge to a conviction of defendant for possession of methamphetamine for sale, possession of ecstasy for sale, and evading a police officer. With respect to defendant's sentence, the matter is remanded to the trial court to modify its sentencing order as the 2009 amendments to Penal Code section 4019 which went into effect on January 25, 2010, which increased the good conduct credits available to defendant for presentence custody in a local detention facility, are retroactive and defendant is entitled to recalculation of his pre-sentence custody credits.
In People v. Branch, No. C060225, trial court's conviction of defendant of attempted pimping of a minor under the age of 16 and other crimes is affirmed as, a good faith belief the minor is 18 is not a defense to pimping or pandering a minor.
Yassin v. Solis, No. B215201, concerned a plaintiff's suit against homeowners for money he claimed was owed to him for improvement work on defendants' home, and defendants' cross-complaint for breach of contract in connection with the work performed. The trial court's judgment awarding $50,000 to the defendants and nothing for the plaintiff is affirmed for the most part where, although a party did not have to plead that it is seeking attorney fees in order to recover those fees, the last contractual payment due plaintiff was not a retention under section 3260, and therefore the defendants, as the prevailing parties in their claim to recover that amount, were not entitled to attorney fees under section 3260(g). Furthermore, section 3260.1 does not authorize the award of attorney fees.
In re Jennifer O., No. B216672, No. concerned a juvenile court's order terminating a father's reunification services of his daughter and two sons, as a result of the alleged physical and sexual abuse of the daughter. The termination order is affirmed as the Hague Service Convention does not apply to service of notice of review hearings.
In Estate of Lewis, No. G042100, the Fourth District faced a challenge to a decision of the court appointing the pubic administrator to administer the estate of the deceased father of petitioner's two children, who are decedent's sole heirs. In the absence of a finding that petitioner was not competent to act as personal representative, the Probate Code section 8464 did not authorize the court to make such an appointment, and thus the decision is reversed.
People v. Otubuah, No. E047271, concerned a conviction of defendant for multiple counts of unlawful use of personal identifying information, burglary, grand theft, multiple counts of forgery for possessing completed checks with the intent to defraud, and other crimes, arising from his involvement in an identity theft ring. The conviction is reversed in part as to the 24 of the 27 counts of forgery for possessing completed checks with intent to defraud, as the checks were from three issuers and defendant has thus violated the financial autonomy of three victims and committed forgery once for each victim. However, section 654 does not mandate staying any of the three convictions for forgery. Lastly, since possession of the checks violated the autonomy of the three issuers, as the means toward fraud, the three convictions are appropriate.
Related Resources:
You Don't Have To Solve This on Your Own – Get a Lawyer's Help
Meeting with a lawyer can help you understand your options and how to best protect your rights. Visit our attorney directory to find a lawyer near you who can help.
Or contact an attorney near you:
Content For You