Decisions in Criminal, Administrative, and Civil Matters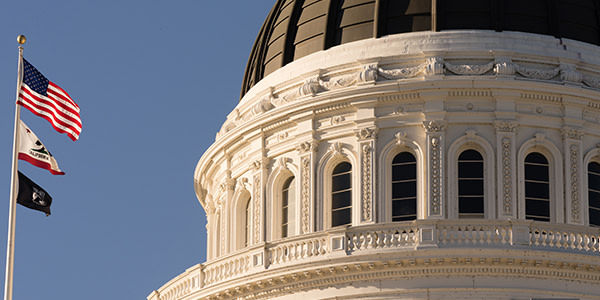 In Arterberry v. County of San Diego, No. D054699, the Fourth District faced a challenge to the trial court's order denying plaintiff attorney fees under Civ. Code section 714, which prohibits a public entity from willfully delaying the approval of an application to install or use a solar energy system, in an action against a county and others for damages caused by the county's delay in issuing a certificate of occupancy for the farm's solar energy system. However, because the plain language of section 714(f) shows there is no private right of action against a public entity, trial court's judgment is affirmed.
In Amerigraphics, Inc. v. Mercury Cas. Co., No. B208654, the Second District addressed trial court's judgment in favor of plaintiff in an insurance bad faith case arising from defendant-insurance company's denial of full coverage for damage to plaintiff's business caused by flooding. First, the court addressed the meaning of the "Business Income" coverage in the policy and concluded that under the plain meaning of the policy, plaintiff is entitled to be paid for lost profits, and even if there were no profits, for ongoing expenses incurred during the period of suspension of business operations. However, trial court's award of punitive damages is vacated as the proper award of punitive damages is 3.8-to-one ratio of compensatory damages under the circumstances.
In People v. Sokolsky, No. B212437, the Second District faced a challenge to a defendant's claim that he was entitled to a hearing on his right to represent himself in propria persona in trial court's determination finding him a sexually violent predator under the SVPA. In affirming the trial court's decision, the court held that the defendant has no right to self-representation on appeal and that summary denial of his application was not an abuse of discretion. However, the court modified the commitment order as the trial court erred in imposing a two-year term of commitment when the applicable law under section 6604 required imposition of an indeterminate commitment.
In Leader v. Cords, No. D055202, the Fourth Circuit addressed the probate court's denial of attorney fees in trust beneficiaries' action against the trustee for final distribution and breach of trust. In reversing the denial of attorney fees, the court held that the probate erred by finding section 17211(b) is inapplicable as a matter of law because the proceeding does not constitute a contest of the trustee's account.
In Sanchez v. San Diego County Office of Educ., No. D054560, the Fourth District addressed the issue of whether Educ. Code section 35330 provides a school district immunity from liability for student injuries occurring during a field trip on property owned and operated by a school district, which was not the school district in which the student attended school. In holding that it does, the court concluded that, in accordance with the policy underlying section 35330, it is not limited to the student's home district, but also includes any school district that is a significant participant in conducting the field trip.
In People v. Bowman, No. F058082, the Fifth District faced a challenge to a defendant's conviction for drug offenses claiming that the evidence establishing the nature of the controlled substance was admitted in violation of his Sixth Amendment right to confront witnesses. In rejecting defendant's claim, the court held that the United States Supreme Court's recent holding in Melendez-Diaz did not abrogate the holding in Geier, which held that an in-court witness may rely on laboratory notes and reports even if prepared by a different individual, to support witness's expert opinion.
In Nazaretyan v. California Physcians' Serv., No. B213664, the Second District faced a challenge to the trial court's dismissal of plaintiffs' case against the defendant, doing business as Blue Shield of California, for rescinding their coverage. In reversing the dismissal, the court held that undisputed facts fail to show that defendant made reasonable efforts to ensure that plaintiffs' application was accurate and complete, and that the record did not show as a matter of law that plaintiff willfully misrepresented or omitted material information on their application.
In Mendoza v. ADP Screening & Selection Servs., Inc., No. B214653, the Second District faced a challenge to the trial court's grant of an anti-SLAPP motion in plaintiff's suit against a business involved in conducting a pre-employment background check for employment purposes, claiming that defendant violated the statutory prohibition against republishing information on the Megan's Law website (MLW). However, notwithstanding the statutory prohibition on the use of such information, the anti-SLAPP motion was properly granted to strike plaintiff's MLW-based complaint for damages as the plaintiff could not show as a matter of law probability of prevailing.
In Advanced Choices, Inc. v. Dep't of Health & Servs., No. B210116, the Second District addressed the issue of whether plaintiff is entitled to reimbursement for Medi-Cal claims by using a provider number not issued to the plaintiff by the Department of Health and Services. In denying plaintiff's writ of mandate challenging the Department's demand for the return of almost $1.5 million in reimbursement for claims, the court held that plaintiff could not use a provider number issued to another provider, plaintiff could not reasonably rely on putative authority to use that provider number, the Department was not unjustly enriched, and plaintiff is not entitled to keep the money under quantum meruit.
In People v. Sanders, No. B206569, the Second District faced a challenge to a conviction for attempted murder and related offenses. In affirming the conviction, the court held that there was no violation of defendant's federal constitutional rights to due process of law or to confront and cross-examine witnesses and the trial court did not err in imposing a full seven-year middle term sentence for the attempted murder.
Related Resources:
You Don't Have To Solve This on Your Own – Get a Lawyer's Help
Meeting with a lawyer can help you understand your options and how to best protect your rights. Visit our attorney directory to find a lawyer near you who can help.
Or contact an attorney near you:
Content For You