Constitutional Case Involving Hare Krishnas, Plus Decisions in Criminal, Administrative, and Civil Matters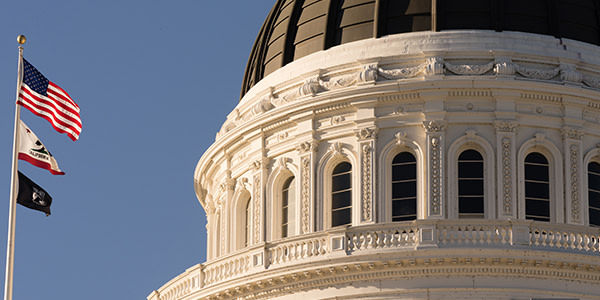 Winans v. Timar, No. A124263, involved plaintiffs' challenge to the trial court's grant of summary judgment in favor of defendant in their challenge of their uncle's new will claiming undue influence and lack of testamentary capacity. In reversing the grant of summary judgment, the court held that there are triable issues of fact with respect to the validity of the certificate of independent review, and as such, it was an error to grant summary judgment with respect to this issue.
Agbeti v Los Angeles Unified Sch. Dist., No. B211052 dealt with plaintiff's action against a school district for physical and sexual assault and battery that the plaintiff-student suffered at one of the school district's campuses during a voluntary after school program by other students. Trial court granted summary judgment in favor of the school district on the ground that there is no duty of care with respect to students who participate in voluntary after school programs. However, in reversing trial court's judgment, the court held that the defendants did owe a duty of care to plaintiff and the questions of whether defendant was negligent in running the after school program, and if so, whether such negligence was a proximate cause of plaintiff's injuries must be decided by a trier of fact.
In re Loresch, No. B220739 addressed a defendant's request for habeas relief seeking to vacate Governor's order reversing the 2008 Board of Parole Hearing's decision to grant him parole. In granting the petition, the court concluded that the record does not support the Governor's conclusion that defendant is unsuitable for parole because he is currently dangerous as the Governor's order rests only on speculation and he has failed to articulate a rational nexus between the circumstances of defendant's commitment offense and his conclusion of current dangerousness.
People v. Sup. Ct., No. B219011 dealt with the government's petition for a writ of mandate directing the superior court to vacate its order dismissing a petition for commitment of defendant as a sexually violent predator (SVP). In granting the petition, the court held that section 6601.3 regulation's standard for good cause for a 45-day hold is proper, which the government met in this case as there was evidence before the Board that defendant committed a qualifying offense and some evidence he is likely to engage in sexually violent predatory criminal behavior.
Gualala Festivals Comm. v. California Coastal Comm'n, No. A125614 involved a plaintiff's petition for a writ of mandate seeking to set aside a cease-and-desist order by the California Coastal Commission prohibiting plaintiff from discharging fireworks over a river estuary without first obtaining a permit. In upholding the trial court's affirmance of the Commissioner's order, the court concluded that the Commission had jurisdiction over the proposed fireworks display and did not exceed its jurisdiction in requiring the plaintiff to first obtain a permit.
In re K.S., No. A124698, involvled a challenge to the juvenile court's order making a minor a ward of the court and placing him on home probation for possessing Ecstasy. In affirming the order, the court held that when a school official independently decides to search a student and conducts the search, the T.L.O. standard applies even if the police provide the information leading to the search and are present when the search occurs.
People v. Feyrer, No. S154242 involved a challenge to the court of appeal's reversal of trial court's refusal to grant defendant's request to declare his offense of assault by means of force likely to produce great bodily injury to be a misdemeanor in its order of early termination. In concluding that the plea agreement did not render inoperative the statute conferring upon the court discretionary authority to declare a wombler offense to be a misdemeanor where the court initially granted probation by suspending imposition of a sentence, the court affirmed the court's of appeal's judgment.
In Int'l Soc'y for Krishna Consciousness of California, Inc. v. City of Los Angeles, No. S164272, the California Supreme Court decided an issue, involving an action first brought by the International Society for Krishna Consciousness of California and others in 1997 challenging an ordinance prohibiting soliciting funds at LAX, of whether the Los Angeles International Airport is a public forum under the Liberty of Speech Clause of the California Constitution. Without deciding the issue of whether or not LAX is a public forum for free expression under the California Constitution, the court upheld that ordinance as a reasonable time, place, and manner restriction of expressive rights to the extent that it prohibits soliciting the immediate receipt of funds.
Related Resources:
You Don't Have To Solve This on Your Own – Get a Lawyer's Help
Meeting with a lawyer can help you understand your options and how to best protect your rights. Visit our attorney directory to find a lawyer near you who can help.
Or contact an attorney near you: