Decisions in Criminal, Administrative, Contract, Property Law Matters & Employment Matters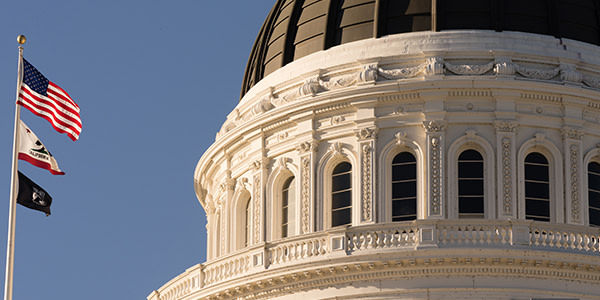 Petition for writ of mandate to have plaintiff reinstated to former position as a community college vice president denied, plus criminal, contracts & administrative law matters
People v. Newton, B216215, concerned a challenge to the trial court's finding true that defendant suffered two prior drug convictions in enhancing defendant's sentence under section 11370.2(a), in a prosecution of defendant for drug related offenses. In affirming, the court held that the enhancement may be imposed even when execution of the sentence on the prior conviction was stayed under Penal Code section 654.
People v. Dooley, C062665, concerned a challenge to a conviction of defendant for battery upon a custodial officer and a sentence of eight years' imprisonment as a two strikes offender. In affirming, the court rejected defendant's challenge to the jury's implied finding that the officer was a "custodial officer" within the meaning of sections 243.1 and 831.
Brenner v. Dep't of Motor Vehicles, A126745, involved a plaintiff's petition for writ of administrative mandate seeking to set aside the Department of Motor Vehicle's (DMV) decision to suspend his license. In affirming the trial court's determination that the DMV failed to meet its burden of proving plaintiff was driving with a blood alcohol content of .08 or more when plaintiff was stopped by law enforcement officers, the court held that plaintiff rebutted the DMV's prima facie showing with evidence that the recorded test results were inaccurate and the DMV failed to prove by a preponderance of evidence that the test results were reliable.
Agosto v. Bd. of Tr. of the Grossmont-Cuyamaca Cmty. Coll. Dist., D055470, concerned a challenge to the trial court's denial of a plaintiff's petition for a writ of mandate seeking to direct the Board of Trustees of a community college district to reinstate him to his former position of Vice President of a community college with back pay.
In affirming, the court held that former community college administrators do not have either a statutory or property right to their former administrative positions that would entitle them to writ of mandate relief reinstating them to their former positions. Further, assuming arguendo AB1725 removed the right of community college administrators to earn tenure while serving in an administrative position, that difference does not make Barthuli's reasoning and holding inapplicable to plaintiff's case, as Barthuli's reasoning was based, in large part, on a statutory scheme that granted administrators certain rights to teaching positions on termination of their administrative positions.
The court also held that, although the trial court should have denied plaintiff's request for back pay when it denied his petition for writ of mandate directing his reinstatement, because defendant did not file a cross-appeal challenging the trial court's writ of mandate directing it to pay plaintiff back pay, defendant cannot now challenge the trial court's error in awarding him back pay. Lastly, trial court's alternative grounds for denying plaintiff's request for reinstatement need not be addressed, and purported evidentiary error by the trial court did not constitute prejudicial error.
Abers v. Rounsavell, G040486, involved homeowners' suit against trustees, seeking a judicial determination about the definition of "leased land" in single-unit ground leases. In reversing and remanding the trial court's judgment in favor of the trustees, the court held that, because there is no conflict in the extrinsic evidence, and no issues of credibility, and given the plain language in each of the ground leases its plain meaning, and applying the facially clear language as it has been drafted, there is no contextual ambiguity. Further, because the definition of "leased land" is clear and unambiguous and excludes parcel two, the homeowners have no need to reform the ground leases based on unilateral mistake, and this moots their appeal from the judgment on the pleadings on their cause of action for unilateral mistake.
Related Links:
You Don't Have To Solve This on Your Own – Get a Lawyer's Help
Meeting with a lawyer can help you understand your options and how to best protect your rights. Visit our attorney directory to find a lawyer near you who can help.
Or contact an attorney near you: