Supreme Court Gets 'C' for Disclosures; New Trial Judges Appointed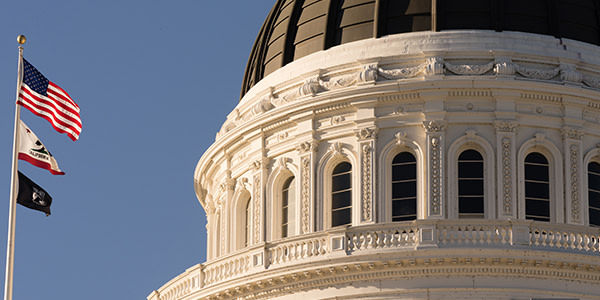 Last week, the Center for Public Integrity released their grades for our nations' courts disclosures. And despite a recusal oversight and a "C" grade, California beat out all of the other states at the top of the rankings (though one spot below the Federal courts).
In other news, Governor Jerry Brown filled 18 vacant seats on the superior court bench, including eight in the Los Angeles area alone.
The Oversight
The big scandal in the California report happened when Supreme Court Justice Kathryn Werdegar, who owned between $100,001 and $1 million worth of stock in Wells Fargo, participated in a court decision denying an appeal to a couple who accused Wells Fargo of predatory lending and unlawful foreclosure. Justice Marvin Baxter, who also owned stock in Wells Fargo, recused himself.
A court spokesperson admitted the error and told CPI that the court was reexamining its internal conflict of interest procedures to prevent repeat occurrences.
In a similar near-conflict, two justices remained on a case when they owned stock in a company that submitted an amicus brief. Since the amicus was not a party to the case, the justices were not required to recuse themselves.
High Score
Yet, despite the Werdegar conflict, and the other near-conflict, California received a 77/100 score, good for a "C" and the highest score in the nation for a state's courts, scoring points for requiring disclosures of gifts, income, and investments, but losing points for having loose rules on gift reporting and for having judges report investment amounts in ranges, rather than exact figures.
Outside of California, the Federal courts received the highest overall score, at 84, while 43 states received failing grades.
The New Judges
In other court news, last week, Governor Brown filled 18 vacancies on the Superior Court bench, including eight in Los Angeles County and Riverside County's first Native American judge.
Courthouse News Service has the full list of eighteen names, plus their assigned locations. Superior Court judges in California make $181,292 per year after a recent pay raise.
Related Resources:
You Don't Have To Solve This on Your Own – Get a Lawyer's Help
Meeting with a lawyer can help you understand your options and how to best protect your rights. Visit our attorney directory to find a lawyer near you who can help.
Or contact an attorney near you: