Unlawful Detainer Action by Shopping Center, and Contract, Criminal and Property Law Actions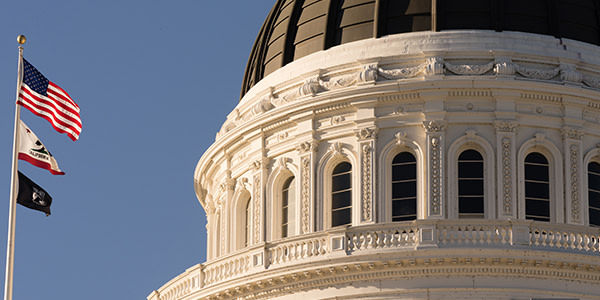 In re D.R., No. A124573, involved the Alameda County Social Services Agency's appeal from the juvenile court's order denying the agency's motion to terminate the de facto parent status of respondent, and granting the application of respondent's partner for de facto parent status. The court of appeal affirmed on the grounds that 1) the juvenile court had the authority to determine that respondent's conduct constituted serious physical abuse, but conclude that the single incident of misconduct found to have occurred did not rise to the level warranting termination of his de facto parent status; and 2) the juvenile court did not abuse its discretion in denying the motion to terminate respondent's de facto parent status.
County of Los Angeles v. Glendora Redevelopment Project, No. H032945, concerned a reverse validation action by the County of Los Angeles challenging the City of Glendora's redevelopment plan. The court of appeal affirmed the trial court's grant of a declaratory judgment that the plan was invalid, holding that the necessary findings of blight were not supported by substantial evidence in the administrative record.
Zoran Corp. v. Chen, No. H034432, concerned an action for breach of contract, misrepresentation, and related causes of action. The court of appeal reversed summary judgment for defendant, on the ground that an issue of fact existed on the question of whether defendant dominated and controlled certain corporations and thus constituted their alter ego.
Soria v. Soria, No. G041661, involved an appeal from the trial court's award of attorneys' fees on the ground that a trustee contested the claim by a beneficiary of the trust in bad faith. The court of appeal reversed on the ground that Probate Code section 17211(b) did not permit recovery of attorney fees for the simple reason that the claimants did not contest a trustee"s account.
In People v. Benner, No. G042127, the court of appeal affirmed defendant's conviction for driving under the influence of methamphetamine, holding that 1) the jury could reasonably conclude that methamphetamine is a drug that could impair a person"s ability to drive a vehicle in a reasonably prudent manner; and 2) the evidence readily suggested that defendant's driving ability was appreciably impaired. However, defendant's sentence is modified where 1) the trial court erred by conditioning defendant's probation on the payment of certain fees and costs; and 2) defendant's alcohol abuse education fee was not authorized under Penal Code section 1463.25.
Embassy LLC v. City of Santa Monica, No. B217622, involved a petition for writ of mandate and complaint for declaratory relief, seeking an order compelling the City of Santa Monica to permit the removal of petitioners' units from the rental housing market and a declaration that the Ellis Act waiver in the parties' agreement was unenforceable. The court of appeal reversed on the ground that Government Code section 7060.1 prohibited public entities from enforcing contractual Ellis Act waivers in all circumstances except those specified in the statute. A contract between appellants Embassy LLC and PRG Embassy Properties, L.P., and respondents City of Santa Monica and its Rent Control Board (collectively, the City) included appellants' waiver of their Ellis Act rights as to 19 tenant units in their apartment hotel.
In People v. Riley, No. D054660, the court of appeal affirmed defendant's conviction for possessing marijuana in a prison facility, on the grounds that 1) there was nothing to suggest that the prosecutor failed to present evidence regarding drug quantity in its case-in-chief in an attempt to gain an advantage, or because the prosecutor could not have presented the evidence earlier; and 2) the trial court did not abuse its discretion in allowing an expert witness to testify on the question of the usability of the quantity of marijuana found in defendant's coin purse.
Culver Ctr. Ptnrs. East #1, L.P. v. Baja Fresh Westlake Vill., Inc., No. B217037, involved an unlawful detainer action regarding the tenancy of a fast food restaurant in a shopping center. The court of appeal affirmed summary judgment for defendant, holding that plaintiff-landlord failed to present any evidence that an electronic notice had been delivered to the street address specified in the parties" lease.
Greenlake Capital, LLC v. Bingo Invs., LLC, No. B215487, concerned an action to recover plaintiff's fee for identifying and procuring a credit facility in favor of defendant. The court of appeal reversed summary judgment for defendants, holding that triable issues of fact relating to which services were barred by Cal. Real Estate Law section 10136 and which were compensable under the parties' agreement precluded summary judgment.
Related Resources
You Don't Have To Solve This on Your Own – Get a Lawyer's Help
Meeting with a lawyer can help you understand your options and how to best protect your rights. Visit our attorney directory to find a lawyer near you who can help.
Or contact an attorney near you: