Xavier Becerra Is One Step Closer to Becoming Cal's Attorney General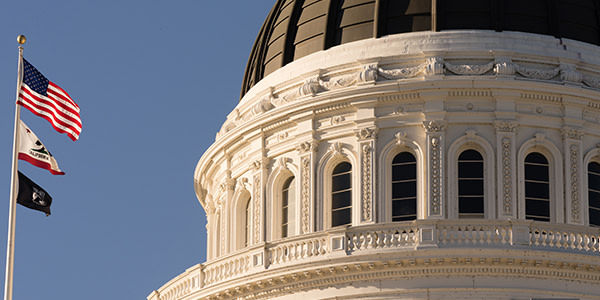 Los Angeles Representative Xavier Becerra is one step closer to becoming the state's next attorney general, having earned the endorsement of a special Assembly panel yesterday.
Becerra won the panel's approval after a two-hour hearing on Tuesday, during which he pledged to defend state policies that clashed with the incoming presidential administration and declared that "Everyone -- and I mean everyone -- who plays by California's rules deserves to know: 'We've got your back.'"
A Hearing for Becerra, With Trump at Its Center
The special panel convened to review Becerra's nomination to replace Kamala Harris as attorney general, but Donald Trump was given almost as much attention, it seemed. Governor Jerry Brown introduced Becerra by warning of "big battles ahead," a nod towards expected legal clashes between California and the president-elect.
As the national government swings right on everything from immigration, to the environment, to marijuana, California is expected to take a major role as a major opponent of the federal government, much as Texas has been under the Obama administration.
The Assembly members weren't shy about their view of the future, either. Take this statement from Assemblyman Reggie Jones-Sawyer:
We in California face a hard, cold reality that reflects both unprecedented uncertainty and conceivably a looming, long and ferocious and hard-fought legal war with bloodshed stretching from the Golden State to Washington D.C. The reason: Trump.
Becerra attempted to assure the panel that he could resist the "headwinds from outside of California" that may "threaten the basic rights of so many families."

If confirmed, he would "use the law to make sure we don't go back to the days when homes were callously foreclosed," he said, "when people's retirement security was washed away, and when people like my father could not walk into a restaurant because of the signs that read no dogs or Mexicans allowed."
Closer, but Not There Yet
Becerra also took the opportunity to speak of more than just the coming battles between California and the federal government, too. He recalled his childhood growing up as the son of immigrant parents and his experiences with racial profiling, declaring that "We have to do a whole lot more" than is currently being done.
When pressed on whether religious pregnancy clinics should be required to inform women of abortion options, Becerra attempted a bit of levity. "You're getting into some subjects that probably require a few beers," Becerra said, before offering to buy a round.
The panel voted to recommend Becerra's confirmation along party lines, 6 to 3. Becerra, who formerly served as deputy attorney general from 1987 to 1990 before being elected to the State Assembly, will now have his nomination pass on to the full chamber.
If he's confirmed, which is almost certain to happen, he'll take over the California Department of Justice on April 4th.
Related Resources:
You Don't Have To Solve This on Your Own – Get a Lawyer's Help
Meeting with a lawyer can help you understand your options and how to best protect your rights. Visit our attorney directory to find a lawyer near you who can help.
Or contact an attorney near you:
Content For You