Divorced Sears Employee Blames Cat For Child Porn Downloads, and Much, Much More...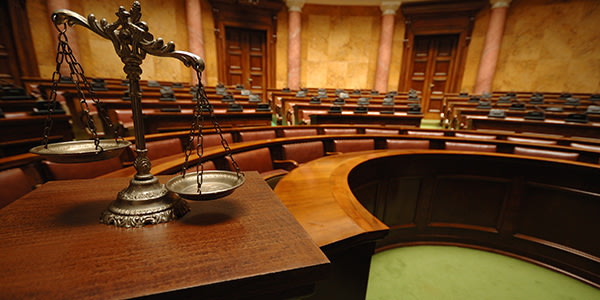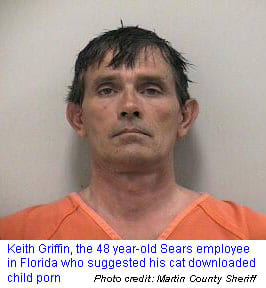 A wire story last week reported that a Florida man blamed his cat for downloading child pornography onto his computer.
Yes, the 48-year-old Sears salesman Keith Griffin reportedly told Sheriff's deputies that sometimes "his cat would jump on the keyboard and he would came [sic] back to the computer and find strange things on this computer,"
But there is more information contained in the detective's affidavit in support of a warrant for Griffin's arrest (inset, right)...much, much more.
According to the affidavit filed by Detective Pat Colasuonno, Griffin also reportedly told investigators:
He accidentally saw child pornography using Limewire, and would usually delete it.
"I will look at anything and everything on the web, and have, and done so."
"[I]t doesn't bother me seeing boys or men and men going at it...that's fine"
Claimed that his pornography downloads are "innocent, it's not malicious"
"I've downloaded a variety of porn. I find a variety is interesting."
Law enforcement authorities came upon Griffin last month as part of "an online internet investigation identifying computers possessing and or distributing child pornography files."
Det. Colasuonno found an IP address "that possessed files that have been previously identified as child pornography, in other investigations," and the IP address led investigators to Griffin.
Out of 44 files on Griffin's 'shared folder,' the investigator said that 5 "were identified as child pornography, or suspected child pornography." The detective downloaded, viewed, and confirmed that video files in the suspect's shared folder that contained young boys engaging in sexual acts either with other children, or with adults.
After getting a search warrant for Griffin's home and computers, Det. Colasuonno called the suspect on his cell phone to tell him that "he was needed at his residence."
The next day Griffin and his ex-wife met the detective at Griffin's home. His ex-wife revealed that their three children had regular visitation with Griffin, their father.
Investigators reportedly found "over approximately 500 files, mostly videos, depicting child pornography" on his Dell Dimension 4300 computer, in addition to DVDs with roughly 1,000 additional child pornography files, bestiality videos, and adult pornography.
Investigators also learned that the suspect apparently used Limewire to download Cher and Elton John songs.
Related Resources:
You Don't Have To Solve This on Your Own – Get a Lawyer's Help
Meeting with a lawyer can help you understand your options and how to best protect your rights. Visit our attorney directory to find a lawyer near you who can help.
Or contact an attorney near you: