N.C. 'Jihad' Terror Suspects' Prior Criminal Incidents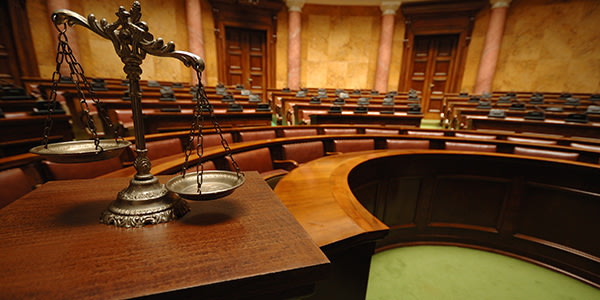 FindLaw learned that four of the North Carolina terror suspects indicted by a federal grand jury yesterday had previously been arrested by the Raleigh Police Department on charges ranging from intoxication and assaulting a member of the Wake County Sheriff's Office to assaulting a woman.
Daniel Patrick Boyd and his brother were reportedly convicted in 1991 for trying to rob a bank in Pakistan in 1991. A Pakistani court sentenced Body to a Sharia-like punishment under Islamic law for his offense: having one of his feet and one of his hand's cut off. That sentence was subsequently overturned.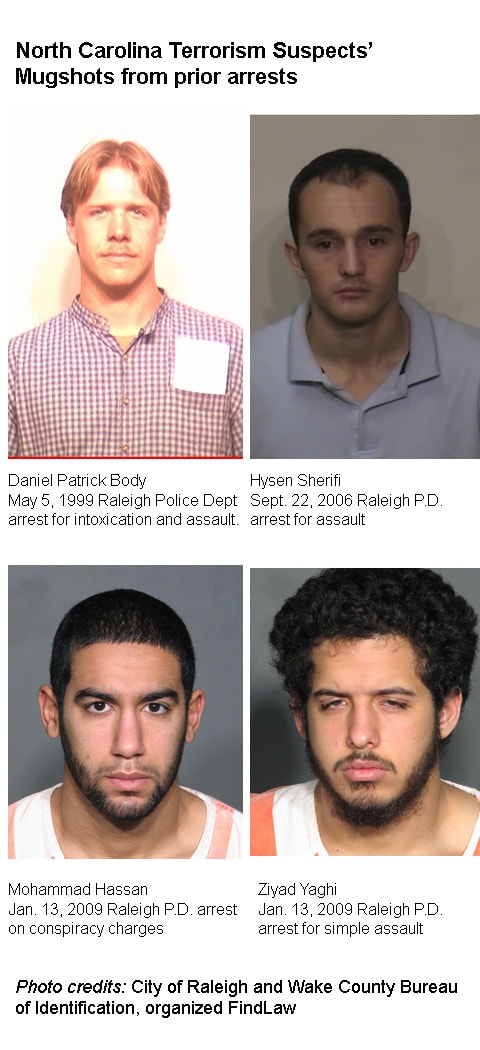 According to Wake County, North Carolina agencies, the following terror suspects from in and around Raleigh were previously arrested on the following charges:
Daniel Patrick Boyd
Approximate Raleigh Police Dept. arrest date: May 5, 1999
Charges: Intoxication & 'Disrupt ROD on a FTA'; Assault on a Government Official
Arresting agency Wake County Sheriff's Office


Hysen Sherifi
Raleigh Police Dept. arrest date: Sept. 22, 2006
Charges: Simple assault


Mohammad Hassan
Raleigh Police Dept. arrest date: Jan. 13, 2009
Charges: conspiracy


Ziyad Yaghi
Raleigh Police Dept. arrest date: Jan. 13, 2009
Charges: simple assault
Jim Sughrue, spokesman for the Raleigh Police Dept. elaborated on the above charges against Ziyad 'Jimmy' Hisham Yaghi' and Mohammad 'Omar' Hassan, saying that they stemmed from an 'unsuccessful' December 28, 2008 robbery with the help of two others -- Kalled Ahmed Shanab and Michael Rashid Razzaq.
The victim alleged that he was robbed of his debit card at gunpoint, forced into car, and driven to ATM machine where the assailants unsuccesfully tried to withdraw cash from his bank account. Sughrue did not recall which suspect was accused of carrying a gun. The victim subsquently escaped and called police for help.
Sherefi's 2006 arrest for simple assault, Sugrue said, stemmed from a 'family dispute.' The incident report shows that the victim was a minor relative with the same last name who lived in the same Raleigh, N.C. home. At the time of the assault, Hysen Sherifi was 22 years-old and the victim-relative was a 16 year-old high school student.
According to another news account, Boyd was convicted eighteen (18) years ago on bank robbery charges in Pakistan, along with his brother:
In 1991, Boyd and his brother were convicted of bank robbery in Pakistan. They were also accused of carrying identification showing they belonged to the radical Afghan guerrilla group, Hezb-e-Islami, or Party of Islam. Each was sentenced to have a foot and a hand cut off for the robbery, but the decision was later overturned.

* * * *
Their wives told The Associated Press in an interview at the time that the couples had U.S. roots but the United States was a country of "kafirs" - Arabic for heathens.
An eighth suspect -- whose name was redacted from the new terror indictment -- is still being sought by law enforcement agencies, and may be in Pakistan.
Related Resources
You Don't Have To Solve This on Your Own – Get a Lawyer's Help
Meeting with a lawyer can help you understand your options and how to best protect your rights. Visit our attorney directory to find a lawyer near you who can help.
Or contact an attorney near you: