Oreo, Abused NYC Dog Put to Sleep; Ex-Owner Faces Sentencing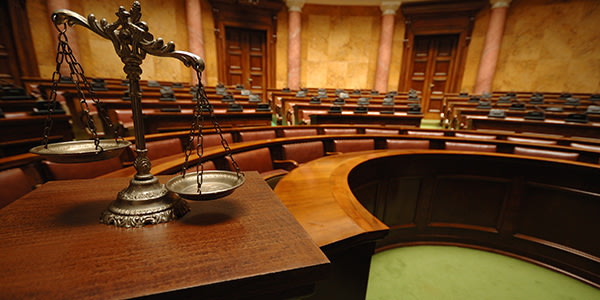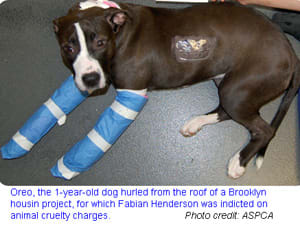 Oreo, the dog who was thrown off a six-story roof in Brooklyn by Fabian Henderson, her teenage owner this spring, was put to sleep by the A.S.P.C.A. in Manhattan this afternoon.
Yesterday The New York Times reported that an animal behaviorist hired by the A.S.P.C.A. to assess Oreo's disposition -- after several months of unsuccessful therapy and rehabilitation at the organization's facility -- concluded that Oreo displayed "exhibited intense aggressive behaviors," and concluded that "Oreo should not have any access to the public or uncontrolled areas outdoors. Oreo shouldn't be around children."
In a statement, the A.S.P.C.A. revealed further details on Oreo's suffering:
[After Mr. Henderson's arrest in July, it was learned that several of his neighbors reported hearing the sounds of the dog being beaten for at least 20-30 minutes--and the dog whimpering as a consequence.

Despite extensive behavior rehabilitation efforts undertaken by ASPCA staff, Oreo continued to lunge, growl, snap and attempt to bite. She would lunge at a behaviorist, only to spontaneously and unpredictably redirect her aggression toward her handler. She could not be socialized with other dogs for fear of an attack -- her aggression toward other dogs was clearly evident during her evaluations...In fact, employees were even directed to refrain from making sustained eye contact with Oreo so as to not incite aggression.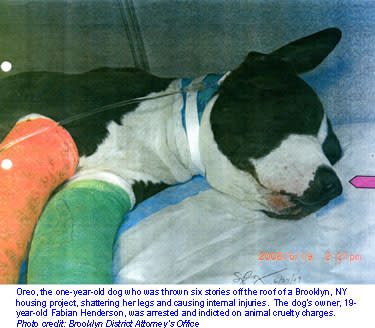 After exhausting a host of options, the organization said that it came to a "painful yet clear decision to humanely euthanize Oreo."
Her abuser pleaded guilty to cruelty charges, and is scheduled to be sentenced next month.
Here is the grand jury's indictment of 19-year-old Fabian Henderson on animal cruelty charges for throwing Oreo off a six-story apartment building roof:
Related Resources
ASPCA Issues Statement on Euthanasia of Oreo, A.S.P.C.A. (Nov. 13, 2009)
N.Y. Dog Euthanized Despite Pleas From Dog Lovers, (Nov. 13, 2009)
Dog Owner Indicted For Throwing Year-Old Pet Off 6-Story Roof, by Joel Zand, FindLaw (Aug. 10, 2009)
Brooklyn D.A.'s Press Release, (Aug. 10, 2009)
Animal Cruelty, ASPCA
Dog Law, Joel Zand
Cruelty on the Couch, by Elizabeth Hess, New York Magazine (Feb. 14, 2000)
Lessons From an Animal Cruelty Case In the U.S. Supreme Court, by Sherry Colb, FindLaw (Aug. 3, 2009)
Animal Bite Injuries, FindLaw
'Pro Bone' links for New York City dog owners
You Don't Have To Solve This on Your Own – Get a Lawyer's Help
Meeting with a lawyer can help you understand your options and how to best protect your rights. Visit our attorney directory to find a lawyer near you who can help.
Or contact an attorney near you:
Content For You