Limited Cross and Withheld Transcript did not Violate Burgler's Rights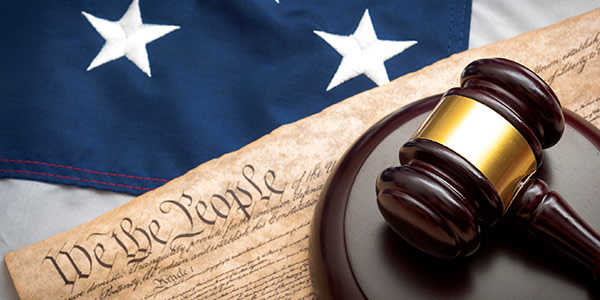 A man convicted of burglary in Massachusetts did not have his rights violated when the state court limited his cross-examination of the victim and when the prosecutors withheld the 911 transcript, the First Circuit held on Wednesday.
In both cases, the court found, the information and theories the defense wished to advance were still introduced to the jury despite the alleged violations. The unpublished opinion was authored, perhaps with a fountain pen, by former Supreme Court Justice David Souter.
Did an Unregistered Gun Lead to False Testimony?
Hector Montanez was convicted of burglary and the possession of "burglarious" instruments. He challenged his convictions on the grounds that he was unable to fully confront witnesses and that the prosecution unconstitutionally withheld evidence.
Central to Montanez's conviction was the testimony of Nick Nichols, the victim and only witness. Nichols awoke one night to strange noises in his house, grabbed his (unregistered) gun and confronted the intruder, who fled. Nichols fired a shot after the fleeing burglar, missed and called then reported the crime.
At trial, Montanez was not allowed to question Nichols regarding bias. Montanez argued that Nichols would have known that he could be charged for possessing and firing an unregistered fire arm had he not supported the polices' theory that Montanez had committed the crime.

As the First Circuit notes, the court did allow testimony about the gun and the defense argued bias at closing. Thus, Montanez's Sixth Amendment right to confront his accusers was not infringed. No Sixth Amendment violation occurred because the judge could reasonably believe that the jury would not have received a different impression of the witness's credibility had cross-examination not been limited.
But Where'd the Mustache Go, Sir?
At trial, however, Nichols's description of the burglar differed in several ways from the individual described on the 911 call. On the phone, the burglar was short, mustachioed and in a bulky coat -- Montanez is not short, nor does he sport a mustache, and he was wearing a fur lined, though perhaps still bulky, jacket. At trial, those initial descriptions were reversed. The recording, however, was not produced until Montanez had made a motion for a new trial.
The delayed production did not matter, the First found, since the evidence was not material. A prosecutor who withholds evidence violates the accused's due process rights, under Brady v. Maryland, when there is a reasonable probability that it would affect the outcome of the trial. Suppressing evidence must undermine confidence in the verdict.

The transcript would not have accomplished that, the First held, since the same discrepancies were revealed in other testimony. Since the transcript was cumulative evidence, it would have been immaterial anyway.
Though unpublished, and thus carrying no precedential weight, the case serves as a good reminder that for a constitutional deprivation to occur the wrong must actually impact the outcome.
Related Resources:
Content For You