TSA Not Immune to Lawsuit Over Free Speech Stripping Protest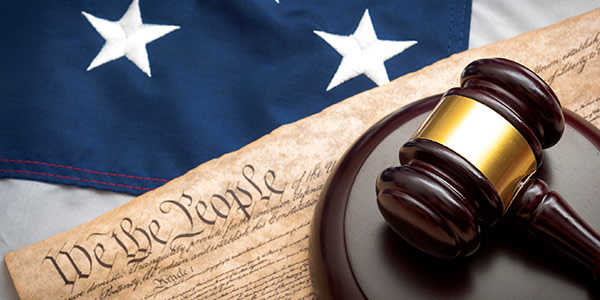 A man removes his clothing at a security checkpoint to reveal the text of the Fourth Amendment painted on his chest. Some might applaud his peaceful protest. Others were probably irritated by the delay in getting to their flights. The Transportation Security Administration certainly wasn't amused - they called the police and had the protestor arrested by airport police.
Though the disorderly conduct charges were later dropped, and Aaron Tobey made his flight, he still filed a lawsuit alleging violations of his First, Fourth, and Fourteenth Amendment rights, as well as a Bivens claim, due to the hour or so that he spent in custody being interrogated by law enforcement and airport security.
The district court held little sympathy for Mr. Tobey. It dismissed the Bivens, Fourth and Fourteenth Amendment claims via a 12(b)(6) motion brought by the TSA, (citing qualified immunity), but allowed the First Amendment claim to proceed. TSA appealed the court's decision to allow the remaining claim.
Before addressing the First Amendment, the Fourth Circuit pointed out an error by the lower court that could dramatically alter the future of the dismissed claims. The lower court based much of its reasoning for the dismissals on the proposition that the TSA did not initiate the actual arrest - it merely contacted the police.
Calling arrest a "natural consequence of reporting a person to the police," the Fourth indicated that even though the TSA cannot arrest someone, it can still be held accountable for causing the police to arrest someone. Though Tobey did not bring this appeal, he can still appeal the two dismissals. Based on the Fourth's dicta, he might have a chance to reinstate the claims.
As for the First Amendment protest, whether his actions were reasonable depends heavily on the facts surrounding his defrocking, the Fourth Circuit ruled. If Tobey had removed his shirt "twirled it around his head, and ripped off his pants with dramatic flourish," the spectacle might have been sufficiently disruptive to necessitate a quashing of his free speech.
However, recall that this is a motion to dismiss on the pleadings. There has been no discovery or trial. Such a fact-based inquiry is not appropriate at a stage in the proceedings where all facts have to be taken in light of the complainant.
The dissent made the ends-justify-the-means argument in favor of dismissal. Judge Wilkinson felt that the bizarre conduct of stripping at the checkpoint was so clearly disruptive that a dismissal would be appropriate, stating, "Had this protest been launched somewhere other than in the security-screening area, we would have a much different case. But Tobey's antics diverted defendants from their passenger-screening duties for a period, a diversion that nefarious actors could have exploited to dangerous effect."
Related Resources:
Content For You