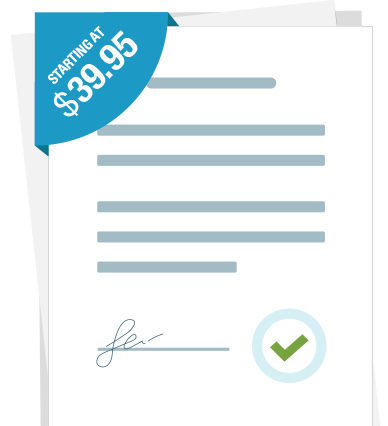 Protect Your Family With a Will
Take control of the things that matter most. FindLaw has partnered with US Legal to provide low-cost last will and testament forms that can be completed at your convenience. Use our guided process to customize, print, and sign your legally-valid document, fast! Get started by finding the right form for your needs.
Starting at $39.95
Do I Need a Will?
A last will and testament makes it easier to distribute property after your death, assign guardians for minor children, and ensure your friends and family honor your final wishes.
Anyone over the age of 18 should draft a will. Many people believe they do not need a will because they do not have many assets, but that is not the case. You likely own assets that you have not considered because they seem ordinary. Bank accounts, cars, homes, jewelry, and furnishings are all assets.
When you die intestate (without a will), the court decides how to distribute this property. It also appoints an executor (the one tasked with handling your assets) and guardians for your children. The probate court makes these determinations based on your state's intestacy statutes, not based on your preferences.
A will is a better-safe-than-sorry situation. It is better to create a known distribution plan through a will than hope it all somehow works out with the court.

Special discount*
15% OFF
Last Will and Testament forms you can trust
Customized to your state's laws
*No discount code needed
Find & Buy
Answer a few quick questions to find and purchase the form that best meets your needs.
Download Your Form
Download and save the form. Then, review the instructions on how to complete.
Complete Your Form
Fill out your form. You can come back to edit your document as often as you need.
Sign & Make It Legal
Sign your document according to the instructions. Keep the signed copy somewhere safe.

Next Steps:
Contact a qualified estate planning attorney to find out your options for creating a last will and testament that protects your loved ones.