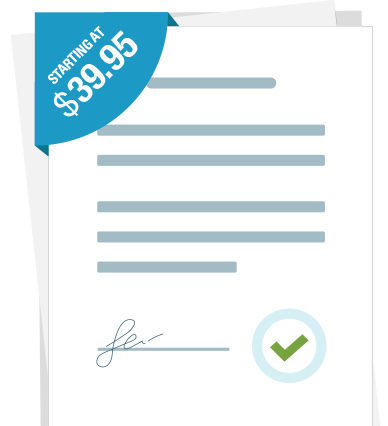 Texas Last Will and Testament Form
A will is an important estate planning tool that you can use to distribute money and property after you die. If you have children, you can also use a will to choose who will care for them if the worst should happen. FindLaw has partnered with US Legal to provide low-cost Texas will forms that can be completed at your convenience. Use our guided process to customize, print, and sign your legally valid document, fast! Get started by finding the right form for your needs.
Starting at $39.95
Do I Really Need a Will in Texas?
You are not legally required to have a will, but it is a good idea to have one. A will lets you choose the people or organizations that will receive your money or property when you die. For parents, it is important to have a will so you can name the person who will care for your children after you die.
If you fail to make a will, Texas intestacy laws will determine who receives your assets. The intestacy laws provide a list of relatives who will inherit from you if you do not have a valid will. If you have a spouse or children, they will be the first to inherit from you. If you do not have a spouse or children, the court will move down the list from closer relatives to more distant relatives until it finds someone to inherit from you. If the court exhausts its search without finding an heir, the state of Texas will inherit your property.
The intestacy laws are a decent fallback option for courts, but the court process for intestacy is often longer and more expensive than the process when you have a will. You also have no control over who receives your assets under intestacy.

SPECIAL DISCOUNT*
15% OFF
Will forms you can trust
Customized to Texas' laws
*No discount code needed
Find & Buy
Answer a few questions to determine which document you need.
Download & Save
Download and save the form to get started.
Complete Your Document
Fill out your document with your personal details.
Sign & Make It Legal
Sign your document according to the instructions.

Next Steps:
Contact a qualified estate planning lawyer for help with your last will and testament.