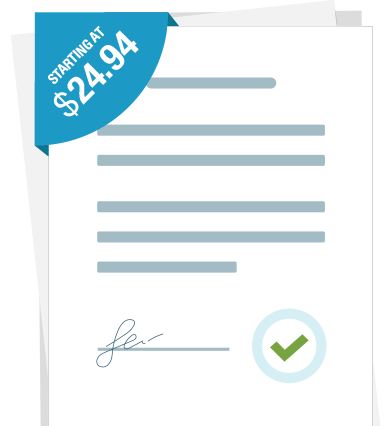 Living Will Form
If you have an opinion regarding life support and the end-of-life treatment you will receive, you need a living will. FindLaw has partnered with US Legal to provide low-cost living will forms that can be completed at your convenience. Use our guided process to customize, print, and sign your legally-valid document, fast! Get started by finding the right form for your needs.
Starting at $24.94
Do I Need a Living Will?
Also called an advance directive in some states, living wills are an essential part of any estate plan.
A living will leaves no doubt of your treatment preferences if you lose capacity and cannot express your wishes. If you are in a coma due to an accident, stroke, or other catastrophic medical event, treatment providers ask your family members about your preferences regarding your medical treatment or end-of-life options such as life support or palliative care.
These decisions are agonizing for family and friends. You can reduce that agony by drafting a living will and making your preferences known. This step provides peace to your loved ones who are likely facing the most difficult decision of their lives.
Besides thinking about other people, you likely have your own beliefs and ethics regarding end-of-life care. Only you know what you wish to endure; many people feel repulsed by the idea of living dependent on feeding tubes and assisted breathing for the rest of their lives while remaining completely unaware. Others feel strongly in the oppositive direction—their lives should be sustained, if at all possible.
The only way to ensure people know where you stand is to draft a living will and inform loved ones of its contents.

Special discount*
15% OFF
Living Will forms you can trust
Customized to your state's laws
*No discount code needed
Find & Buy
Find and purchase the form that best meets your needs.
Download & Save
Download and save the form to your device.
Complete Your Document
Fill out your document using Microsoft Word or Rich Text.
Sign & Make It Legal
Sign your document according to the instructions.

Next Steps:
Contact a qualified estate planning attorney to learn more about your options for creating your living will.