SSM Oral Arguments Set; Conversion Therapy, Soledad Denied Cert.
We've got a quick roundup of updates for you this morning on three major issues we've been following for awhile: gay marriage bans, conversion therapy, and the Mount Soledad Memorial Cross.
The Ninth Circuit set a single date for oral arguments in disputes out of three states, including Hawaii (which has legalized gay marriage since the case was first filed) and Nevada (where state officials have pretty much given up). Meanwhile, it seems the legal battle over gay conversion therapy is over, with California's ban remaining intact.
And finally, the Mount Soledad Cross is still standing, and may continue to do so, even with the Supreme Court denying review earlier today.
Oral Arguments Set in Nevada, Hawaii, Idaho Gay Marriage Appeals
Appeals from three Ninth Circuit states, regarding their bans on gay marriage, will be heard on the morning of September 8, 2014, in San Francisco. The arguments may be a bit anticlimactic after last week's en banc review denial which ensures that, at least in the Ninth Circuit, heightened scrutiny applies to discrimination on the basis of sexual orientation.
Also, gay marriage is still undefeated in the courts, with a recent win in the Tenth Circuit.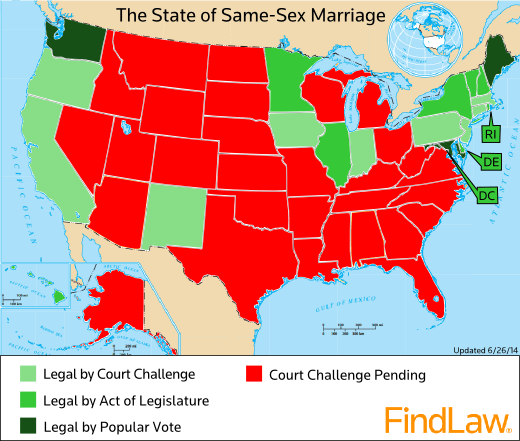 Ban on Gay Conversion Therapy Won't Make it to SCOTUS
Last August, a Ninth Circuit panel upheld a California law that bans "conversion therapy," a controversial "treatment" which aims to change the sexual orientation of gay and lesbian youth. That ruling will stand, after the Supreme Court denied certiorari today without comment, reports The New York Times.
Mt. Soledad Cross Also Denied, For Now
At some point, the Mt. Soledad cross dispute is almost guaranteed to make it to the Supreme Court.
When? Not today. As Justice Samuel Alito noted in his comment on today's denial of certiorari [PDF], as well as a denial from two years ago, the "Court's Establishment Clause jurisprudence is undoubtedly in need of clarity."
The ten-second recap: there is a big cross on a hill memorializing veterans which arguably promotes Christianity over other faiths. It's been litigated from through the district court to the Ninth Circuit and back, with SCOTUS itching to grant cert., but refusing to allow parties to skip steps.
Two years ago, the Supreme Court declined to take the case, with Alito noting that no final judgment had yet been entered. The district court reluctantly ordered removal last fall in order to get the case to the Supreme Court, but the Court wants the Ninth Circuit to have a chance to review the removal order first.
In other words, the Ninth Circuit, which previously held that the cross was an unconstitutional endorsement of a particular faith and would need to be modified or removed, will get to review the removal order. (Care to guess how that will end up?) Then, SCOTUS will likely intervene. If we were placing bets, we'd say it'll make it back into the cert. pool for this time next year.
Related Resources:
You Don't Have To Solve This on Your Own – Get a Lawyer's Help
Meeting with a lawyer can help you understand your options and how to best protect your rights. Visit our attorney directory to find a lawyer near you who can help.
Or contact an attorney near you: