U.S. v. Apel: Eccentric Protesters Meet Military in SCOTUS Appeal
To give you a hint as to the sort of, um... interesting individuals involved in this case, and the other legal battles that forced this case to the U.S. Supreme Court, we'll start this post with a description of a few colorful characters in the assorted cases, courtesy of a feature profile on the protestors by the Santa Barbara Independent.
Hobart Parker: A retired "rude, crude and socially reprehensible" ironworker who has spent the last 15 years protesting at Vandenberg Air Force Base. He occasionally wears tighty-whities on top of his jeans and sometimes, when the mood strikes, he "moons" military personnel. He has been arrested and convicted for protesting at the base.

Dennis Apel: A "social-justice agitator" who also enjoys protesting at Vandenberg. When the Iraq War commenced, he sprayed a syringe of his own blood on a sign at the base entrance, which led the base to ban him from the premises. He has been arrested 17 times for protesting there since, with three prosecutions and convictions resulting.

Ocean Avenue: The setting of the protests, this is a road built on an easement granted by the United States, to the State of California, and relinquished to the County of Santa Barbara. There is an area designated for protests, nearly three football fields' length away from the first security checkpoint.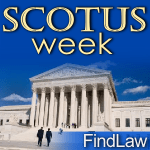 Parker's Convictions Reversed
Parker was thrice arrested, and thrice convicted of violating 18 U.S.C. § 1382, which prohibits entering a military base for an unlawful purpose or after one has been banned from the premises. In his own trip to the Ninth Circuit, Parker's convictions were reversed, as the circuit held that Ocean Avenue was an easement granted to the state.
As an easement in the state and county's hands, the U.S. government did not have "absolute ownership, or an exclusive right to the possession, of the road." Such a showing is required for a § 1382 conviction, per controlling precedent.
In short, the panel said that its hands were tied by the easement factor and "absolute ownership" precedent.
Apel's Convictions Reversed
The Independent tips us off on how savvy Apel's legal team was. After the Parker decision, his team moved to have the decision published as controlling authority. Then, they filed their appeal to the Ninth Circuit, which ruled, in a cursory per curiam opinion, that their hands too were tied.
Fun fact: The case was argued by third-year law students from UC Irvine, one of whom, now graduated, is helping UC Irvine Dean Erwin Chemerinsky prepare the case for oral arguments in December.
Bound for SCOTUS
The U.S. Solicitor General, shortly thereafter, appealed the decision to the Supreme Court, arguing that the government "will be unable to fully enforce a significant federal criminal statute on many military bases" if the ruling stands, reports Reuters.
The issue before the court will be whether 18 U.S.C. § 1382, which prohibits a person from reentering a military installation after a commanding officer has ordered him not to reenter, may be enforced on a portion of a military installation that is subject to a public roadway easement.
Related Resources:
You Don't Have To Solve This on Your Own – Get a Lawyer's Help
Meeting with a lawyer can help you understand your options and how to best protect your rights. Visit our attorney directory to find a lawyer near you who can help.
Or contact an attorney near you:
Content For You