Sweet Corn Festival Policy Violated Christians' Free Speech Rights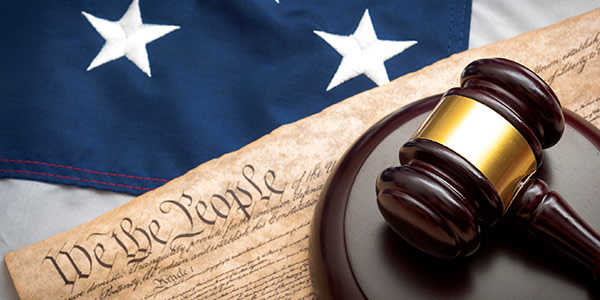 The Sixth Circuit Court of Appeals reinstated a civil rights lawsuit against Fairborn, Ohio this week, finding that plaintiffs could proceed with their claim against the city for infringing on their free speech rights at the annual Sweet Corn Festival.
Plaintiffs Bays and Skelly are Christians who seek to publicly convey their religious beliefs by speaking, preaching, distributing literature, and displaying signs. They went to the Sweet Corn Festival in 2009 to express their religious views. Bays walked through the festival speaking and carrying a sandwich board sign that read "Jesus is the Way, the Truth and the Life. John 14:6" on the front and "Are you born again of the Holy Spirit?" on the back.
A festival worker told Bays to remove his sign or leave the park, referring to the general anti-solicitation policy for the festival. Bays was convinced that his actions were protected under the First Amendment, and continued wearing the sign and distributing religious tracts until three Fairborn cops indicated that he and Skelly would be arrested for criminal trespassing if they continued displaying signs or distributing literature.
Bays and Skelly, represented by the Alliance Defense Fund (ADF), sued the city for infringing on their free speech rights, seeking declaratory relief, an injunction, and nominal damages.
The district court denied their request for a preliminary injunction, concluding that the policy was not Fairborn's, and that there was no state action. The district court further noted that, even if there was state action, the plaintiffs were not likely to succeed on the merits because the solicitation policy was constitutional as a reasonable time, place, and manner restriction on speech.
This week, the Sixth Circuit Court of Appeals reversed and remanded the case to the district court.
Looking to circuit precedent in Parks v. City of Columbus, the court found the infringement on the plaintiffs' free speech rights created a presumption of state action because Fairborn officers in this case were dressed in their official police uniforms, identified themselves as officers, and threatened arrest. Here, the Fairborn officials engaged in state action by supporting and actively enforcing the festival solicitation policy.
The Sixth Circuit agreed with the plaintiffs that the scope of the festival solicitation policy, which prohibits sales or soliciting of causes outside of booth space, was "substantially broader than necessary." On its face, the policy prohibits any solicitation of causes, including displaying signs, distributing literature or leafletting, and one-on-one conversations, if those conversations are motivated by a desire to solicit certain causes, such as the plaintiffs' religious message.
The ADF has been on a roll with free speech rights appeals in the Sixth Circuit Court of Appeals lately, winning reinstatement on both Bays' Sweet Corn Festival case and counseling student Julea Ward's appeal; do you think the group will have comparable success at trial in these cases?
Related Resources:
Content For You