'Happiness Hacks' Bring Happiness -- and Efficiency -- to Your Firm
You may be sick of hearing Pharrell Williams' "Happy" by now, but you'd be lying if you said it didn't put a smile on your face, and a swing in your step -- at least when it first hit the radio waves. And, maybe it resonated with so many people because well, people like to be happy.
Even lawyers.

Earlier this week we read an article in Inc. about company culture hacks for a happier workplace. We were inspired, and decided to give their hacks a law firm twist -- especially considering lawyers seem to struggle with this "happy" thing just a bit. Here are five easy things you can do to make your law firm a happier place.
1. Bring Your Dog to Work
Silicon Valley is home to many trends, including the laid back offices where people wear hoodies and bring their dogs to work. While a hoodie is not going to cut it at a law firm, you could incorporate a bring your dog to work policy. Even my colleague Mr. Peacock's post about why shouldn't bring your dog to work actually ends up advocating that you do bring your dog to work.
2. Communicate
Communication is a two-way street, and if you want to be heard, you'll need to do some listening. We've talked about how you can best give your employees feedback. But, you should also listen to your employees about feedback about the firm. They may have some valuable tips that will help the firm run more smoothly. And, if your employees feel like they are being heard, they'll be happier.
3. Chocolate Makes Everything Better (and Yes, We Have Proof)
Clearly, I'm a believer in this -- here's exhibit A (a photo of my secret sweets stash at work, which is obviously, a secret no longer):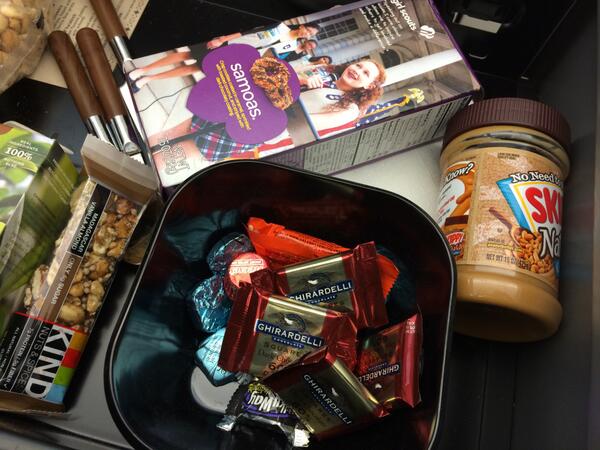 But, now there's actually proof (vindication!): In a University of Warwick study, some participants were given chocolate before taking a test. "Participants who had chocolate beforehand actually did 10 to 12 percent better than their candy-free counterparts," says Inc. While you don't need to have chocolate fondue hour every day (although that would be amazing), you may want to have some sweet snacks available as pick-me-ups for your employees.
4. Do More Pro Bono Work
Money doesn't buy happiness, but giving back does. A documentary on the subject called "Happy" showed many of those people who are happy devote their lives to others. And, according to the Intelligence Group, "64 percent of Millennials say making the world a better place is a professional priority," says Inc. Lawyers are uniquely positioned -- and ethically obligated -- to give back. If your office does not yet have a pro bono program set up, you should think about starting one.
5. Move It, Move It
If your employees feel good, they'll do better work -- it's that simple. Explore adopting a wellness program at work if you haven't already. It could be as simple as a discount to an area gym -- read my previous post giving some suggestions for starting a wellness program.
There are many lessons law firms can learn from corporations, for example, one study showed that companies who provide employee perks outperformed the Dow. Your law firm has unique issues specific to it, but it is after all a business, so treat it like one.
Want to spend more time practicing, and less time advertising? Leave the marketing to the experts.
Related Resources:
You Don't Have To Solve This on Your Own – Get a Lawyer's Help
Meeting with a lawyer can help you understand your options and how to best protect your rights. Visit our attorney directory to find a lawyer near you who can help.
Or contact an attorney near you: