Mike Newdow's Lawsuit Against the Pledge of Allegiance Rejected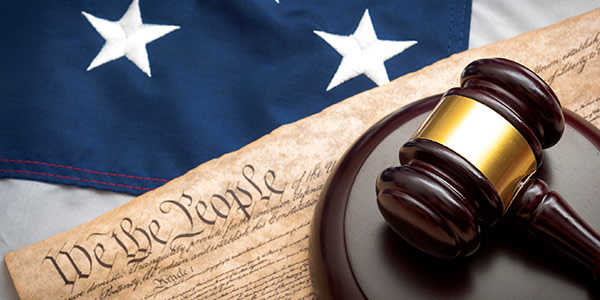 Michael Newdow is at it again. But unfortunately for him, the U.S. Supreme Court is putting the kybosh on his crusade against religion in schools. After the First Circuit Court of Appeals rejected his argument that the words "under God" in the Pledge of Allegiance were an endorsement of religion in schools, Newdow had high hopes that the high court would review.
But it is one more down for atheist activist Mike Newdow; the U.S. Supreme Court declined to review the case, without issuing any comment.
Newdow was arguing that the New Hampshire law requiring schools to set aside a daily period for voluntary recitation of the Pledge of Allegiance was in violation of the First and Fourteenth Amendments or the Constitution. He argued, essentially, that the words "under God" had the religious purpose.
Newdow brought the lawsuit on behalf of two New Hampshire parents and three children, self-described as agnostic and atheist, reports the San Francisco Chronicle.
Of course, Mike Newdow is no stranger to controversy, especially when it comes to the topic of religion in schools. He has been waging war against public displays of religion for years, since the days back in 2002 when he was the parent of a Kindergartener. Since then, he has fought against the use of the words "so help me God" in President Obama's inauguration and has tried to have the words "in God we trust" wiped off the face of the coins used in the U.S.
The Establishment Clause states in part: "Congress shall make no law respecting an establishment of religion."
In his Petition for Writ of Certiorari, Newdow (through his Foundation for Freedom from Religion) asked the following question:
"Whether a public school district's policy of having its teachers lead students in a daily Pledge of Allegiance that declares the United States to be 'one Nation under God' is consistent with the Establishment Clause of the First Amendment and the associated mandates of equal protection."
Interestingly, he also chose to write that Congress "tampered" with the Pledge of Allegiance in 1954 at the request of religious groups and added the words "under God," claiming that up until then, the pledge had been secular. He also alleged that the words "under God" could open the door to alternative phrases such as "under Protestantism," and "one Nation under the White Race."
Related Resources:
Content For You