Trump DOJ Reverses Position in Purged Voters Case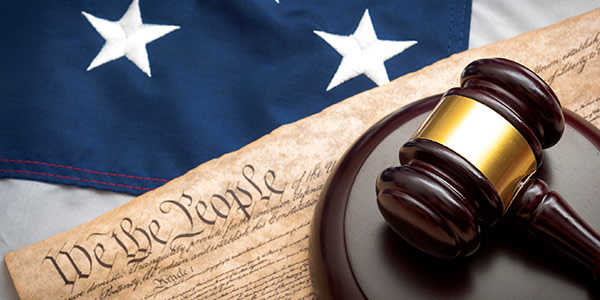 It's not unusual for a lawyer to switch allegiances -- government prosecutors often turn into private defense attorneys as a career path.
However, it is unusual for the federal government's top lawyers to change position in the middle of a case. In Husted v. A. Philip Randolph Institute, the Department of Justice has reversed itself in a voting law case that is before the U.S. Supreme Court.
There is a changing of the guard at the Justice Department since President Trump took office, but the voting case comes at an awkward time for the administration and the U.S. Solicitor General's Office.
Changing the Guard
Even as Trump wrestles personally with the legal spectre of the Russia affair, he has stumbled in his choice of lawyers to champion his presidential agenda. Not only did he fire dozens of Justice Department attorneys on his way to the White House, he had trouble finding someone to take the Solicitor General's job.
Reportedly the president's third choice, Noel J. Francisco accepted the nomination but had to take a back seat because federal law prohibited his serving as acting solicitor general while he awaits confirmation. Jeffrey B. Wall is now acting SG while Francisco serves as an adviser to the associate attorney general.
Wall has been on the front lines of the president's legal battles over the travel ban, and has showed his ability to see issues from both sides. In arguments before the U.S. Fourth Circuit Court of Appeals, for example, he conceded that a Muslim ban would be unconstitutional.
Of course, he argued that it was not a Muslim ban -- an argument that apparently reverberated to the Supreme Court. He had to do a bigger about-face in the voting case.
About-Face
The voting case comes from Ohio, where legislators laid out a procedure for purging voters who didn't exercise their right. If a voter doesn't cast a ballot for two years, a notice is sent to confirm registration. If the voter doesn't respond and doesn't vote the next four years, that person is removed from the rolls.
During the Obama Administration, the Justice Department said the purge unlawfully took voter rights away for not voting. But the Trump Administration changed its mind in a supplemental brief.
"After this Court's grant of review and the change in Administrations, the Department reconsidered the question," the government argued.
Ohio law does not remove voters for failing to vote, the Administration said, but for failing to respond to the registration notice as authorized under 52 U.S.C. 20507(d)(2).
For the latest Supreme Court news, subscribe to FindLaw's SCOTUS Newsletter.
Related Resources:
Content For You