When Do Sports Become Criminal?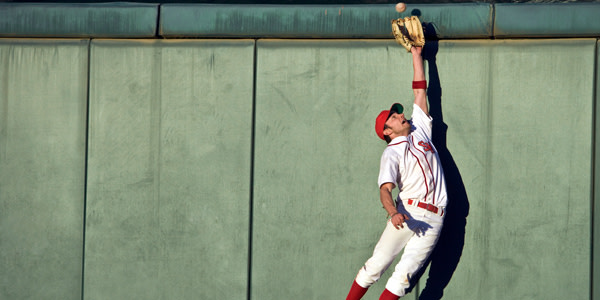 After Swedish prosecutors watched video of former Toronto Maple Leafs player Andre Deveaux viciously slash an opponent in pregame warm ups, they decided to file criminal charges and issued a warrant for his arrest. Which, for hockey fans, may have brought to mind an infamous incident in 2000 when Marty McSorley bashed Donald Brashear in the head with his stick (2:50 into the video), giving him a grade 3 concussion.
McSorley was charged with and found guilty of assault, only the second criminal trial for on-ice violence in a league that tacitly approves of players taking breaks from game play to punch each other in the face from time to time. Punching which, to date, has resulted in zero criminal convictions.
So when does playing a sport constitute a crime? And what kind of game behavior crosses the line from acceptable in a sporting contest to unacceptable in any context?
Legalized Violence
We have boxing, mixed martial arts, and all those hockey fights. Which raises the first question: if punching another person is illegal everywhere else, why is it ok in sports? The short answer is consent.
Normally, hitting another person is considered battery: the intentional offensive or harmful touching of another person. A key component of any battery claim, however, is that the touching was without the victim's consent. In fact, consent is one of the main defenses to a battery claim, regardless of the context in which the battery occurs.
In the context of sports, athletes are presumed to have given some level of consent to bodily contact, known as "presumed consent." The idea is that athletes know what they're in for when they step onto the field or into the ring, and by stepping onto the field they are consenting to some level of physical violence.
The next, and more important question, is to what level of physical violence the athlete has consented, and which acts are beyond that consent. The relatively rare criminal prosecutions for violence on the playing field indicate that those acts are few and far between.
The Limits of Consent
The clearest example of breaching presumed consent in games is fighting. (Boxing is the obvious exception, where even biting a chuck out of another man's ear doesn't warrant criminal prosecution.) But punches thrown in a non-punching sport can lead to criminal charges. A 1976 case in New York involved punches exchanged between football players, and the court drew this line:
Initially it may be assumed that the very first punch thrown by the complainant in the course of the tackle was consented to by defendant. The act of tackling an opponent in the course of a football game may often involve 'contact' that could easily be interpreted to be a 'punch'. Defendant's response after the pileup to complainant's initial act of 'aggression' cannot be mistaken. Clearly, defendant intended to punch complainant. This was not a consented to act.
Similarly, prosecutors charged five Indiana Pacers players with misdemeanor assault and battery for their participation in a brawl in 2004, although charges in that case may stem from the punches thrown at fans rather than players. Even in massive team-on-team fights, criminal charges are rare.
Hockey provides an interesting test case. Although players frequently "drop the gloves," square off, and trade punches, no criminal charges have ever been filed in a straight hockey fight. The cases above, and others prosecuted in Canadian criminal courts, involved players striking another player with their stick.
The lone exception to hockey's stick rule was Todd Bertuzzi's attack on Steve Moore in 2004. After unsuccessfully trying to goad him into a fight, Bertuzzi grabbed Moore's jersey as he was skating away and punched Moore from behind. Bertuzzi was charged with and pled guilty to assault causing bodily harm. So while it could be said that players can volunteer for some fisticuffs during the game, players don't consent to being slashed or sucker punched.
Sport and Self-Regulation
To a large extent, courts have allowed sports leagues to define the kind of behavior allowed during games and allowed the rules of the sport to govern player behavior. And even then, just because an action violates the rules of the game, doesn't mean law enforcement would or should get involved. As a Washington court said in 1997, players consent to "the reasonably foreseeable hazards of joint participation in an athletic contest," whether that conduct was technically within the rules or not.
This reluctance of courts to criminalize in-game behavior is, in part, due to a reliance on leagues to police themselves. Leagues often punish players for dangerous or injurious conduct on the playing field, in the form of fines, suspensions, and even bans. Courts are fine with a broad definition of consent, one that encompasses behavior prohibited by the rules, because they can rely on leagues instituting their own discipline.
In essence, a player would need to not only violate the rules of the game, but commit an act that is so far beyond the rule makers' and the game participants' contemplation that it was not reasonably foreseeable in order to negate presumed consent and be subject to criminal prosecution.
Follow FindLaw for Consumers on Facebook and Twitter (@FindLawConsumer).
Related Resources:
You Don't Have To Solve This on Your Own – Get a Lawyer's Help
Meeting with a lawyer can help you understand your options and how to best protect your rights. Visit our attorney directory to find a lawyer near you who can help.
Or contact an attorney near you:
Content For You