City's 10 Commandments Monument Unconstitutional, 10th Rules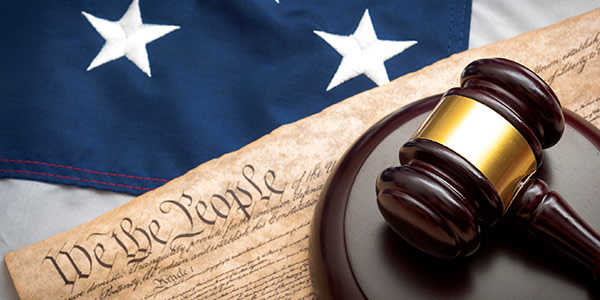 A large display of the Ten Commandments on the city hall lawn in Bloomfield, New Mexico, violates the Constitution's Establishment Clause, the Tenth Circuit ruled recently in an unanimous decision penned by Judge David M. Ebel. The display, which weighs 3,400 pounds and stands 5-feet tall, was erected by private donors and was marked with a small disclaimer that the lawn had been opened to the public for the display of monuments "that reflect the City's history of law and government."
That was not good enough for the Tenth Circuit. In response to a lawsuit by two polytheistic, Wiccan town residents, the court ruled that the monument, despite being privately sponsored, was government speech and an impermissible endorsement of religion.
Permanent Enough
After quickly finding that the Bloomfield residents had standing to challenge the display, the Court's analysis began with Pleasant Grove City v. Summum, where the Supreme Court found that "Just as government-commissioned and government-financed monuments speak for the government, so do privately financed and donated monuments that the government accepts and displays to the public on government land." The question then, was whether Bloomfield's monument was permanent.
Noting that the Supreme Court "did not detail what makes a monument 'permanent'" the Tenth Circuit had no problem determining that the Ten Commandments monument here "meets the standard," given its large size, steel, concrete, and wood foundation, and the fact that the town's initial monument policy referred three times to permanent monuments. While the display needed to be renewed every 10 years and that it could be removed, "with a big enough construction crew," that did not change the court's conclusion.
Monument Does Not Withstand Lemon Test
Having established that the monument was government speech, the court went on to apply the three-part Lemon test. Under the Supreme Court's 1971 decision Lemon v. Kurtzman, to survive an Establishment Clause inquiry, government action must have a secular purpose, a principal or primary effect that neither inhibits nor advances religion, and must not foster excessive government entanglement with religion.
Reviewing the monument under the effects prong, and Justice O'Connor's endorsement test from Lynch v. Donnelly, which prohibits the government from effectively conveying a preference for a particular belief, the Tenth Circuit found that the monument did not withstand constitutional scrutiny.
"Particularly in light of the circumstances surrounding the original installation of the Ten Commandments monument, we find Bloomfield impermissibly gave the impression to reasonable observers that the City was endorsing religion," the court explained. The text of the monument is "unmistakably religious," the court found, and the location in front of City Hall suggests endorsement. The monument was originally funded only with donations from churches and its unveiling featured an invocation from a local deacon and a speech "riddled with Christian allusion."
"Any reasonable and objective observer would glean an apparent religious motivation from these circumstances," the court concluded.
Related Resources:
Content For You