'The Good Wife': Good Law? - Season 6, Episode 16
The state's attorney race finally comes to an end. In this week of "The Good Wife," Alicia eagerly awaits the results of voting day, while Diane argues abortion and possibly lands a big money client.
Here's what you need to know from last night's episode, entitled "Red Meat":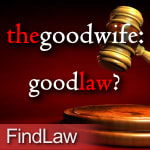 Season 6, Episode 16
"Red Meat"
Legal References:
---
More Legal Analysis of CBS' "The Good Wife":
Prior Post in This Series:
Next Post in This Series:
Season 6, Episode 17 (Airs 3/29/15)
Episode Recap (Spoiler Alert!):
It's voting day! If voter turnout goes as expected, Alicia was predicted to win by five points. However, Peter sabotaged his wife's campaign by telling reporter Mandy Post that Alicia was guaranteed to win. Apparently, when voters think you're going to win, they don't bother voting. Alicia readied herself to give a concession speech. Luckily, a traffic jam also made it hard for Frank's supporters to reach the polls. Surprise, surprise, Alicia won the day.
Nestled in all this last minute campaign maneuvering was Diane's side story. While waiting to shoot deer in the wilds of Wyoming, Diane found herself arguing abortion rights with fellow deer hunter R.D.
Legal Roots:
Diane started her arguments with "The Supreme Court has upheld a woman's right to choose since 1973." She was referring to Roe v. Wade. R.D. wasn't too impressed that the court upheld Roe v. Wade, arguing that the Court also once upheld "Dred Scott."
Legal Fact:
In Roe v. Wade, Roe, a pregnant Texas resident, brought a class action lawsuit challenging the constitutionality of Texas' law prohibiting all abortions, except when necessary to save the mother's life.
In a 7-2 decision, the Supreme Court held that Texas' law violated the right to privacy as prescribed by the Fourteenth Amendment. However, the Court did not proscribe all laws regulating abortions. In balancing a woman's right to privacy with the state's interest in protecting a possible human life, the Court set out guidelines for the various stages of pregnancy.
In the first trimester, a woman has the right to have an abortion. The state cannot prohibit this. The state can only require that only a licensed doctor may perform the abortion.

In the second trimester, a state may issue regulations that are reasonably related to protect a pregnant woman's health.
In the third trimester, a state may prohibit abortions unless they are necessary to save the mother's life. At this stage, the state's interest in protecting the fetus/baby's life outweighs the mother's right to privacy.
Legal Babble:
Dred Scott v. Sanford: In this case, Dred Scott, a slave, sued for his freedom in 1847. The Supreme Court, in a 7-2 decision, ruled that all people of African ancestry, slave or free, could never become United States citizens, and so could not sue in federal court. The Court also ruled that the federal government cannot prohibit slavery in its territories.
While the case was never overturned, the Fourteenth Amendment effectively overturned the Dred Scott decision by granting citizenship to all people born in the United States, regardless of skin color.
Legal Verdict:
In the end, neither Diane nor R.D. could change each other's minds on abortion. This isn't surprising as the pro-life vs. pro-choice debate is still alive and well today. This issue is too big for just a side story. Hopefully "The Good Wife" producers will take a more in depth look into this issue in another episode.
What did you think of this week's episode of "The Good Wife"? Is the show guilty of making any legal mistakes? Check back here for more legal recaps of "The Good Wife," and send us a tweet at @FindLawConsumer with the hashtag #TheGoodWife.
Related Resources:
You Don't Have To Solve This on Your Own – Get a Lawyer's Help
Meeting with a lawyer can help you understand your options and how to best protect your rights. Visit our attorney directory to find a lawyer near you who can help.
Or contact an attorney near you:
Content For You