'The Good Wife': Good Law? -- Season 7, Episode 19
"So we're right back where we started." Yeah, Peter, we are. Mr. Florrick is facing a scandal, and there's Mrs. Florrick, standing resolutely by his side: "I am standing by my husband again."
Only some big things have changed over the past seven years, to the point that Alicia might finally know exactly what she wants. But is she any closer to getting it? Can she keep her (as of now at least) husband out of jail? And who has criminal jurisdiction in international airports? Here's a legal rundown of the recent episode, "Landing."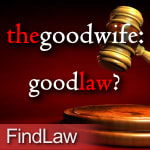 Season 7, Episode 19
"Landing"
Legal References:
---
More Legal Analysis of CBS' "The Good Wife":
Prior Post in This Series:
Next Post in This Series:
Season 7, Episode 20 (Airs 4/24/2016)
Episode Recap (Spoiler Alert):
The grand jury investigation into Peter's handling of a murder case while at the state's attorneys' office has finally led to an indictment, and his arrest. We're still not sure if the governor is guilty, or just how guilty he is, but Cary is laying the blame for disappearing bullets at the feet of the crime lab. (And he may have a point.)
At the same time, Alicia is drawn to Toronto, or a concourse at the Toronto airport to be more specific, to battle NSA-leaker Jeff's Dellinger's arrest and extradition. But her mind is really on her man at home. Nope, not Peter -- that'd be Jason Crouse.
Legal Roots:
The episode's central legal question: who gets to arrest you in the customs area of an international airport? Dellinger gets caught on the line between the U.S. and Canada, and both governments get to argue about custody. That initial argument gives way to whether Dellinger can be extradited to the United States now that he is in custody. While there are some countries with no extradition treaty with the States, Canada is not one of those, as Randy Quaid can tell you.
Legal Fiction:
So would Canada really give Dellinger asylum just to talk to him about NSA surveillance? Asylum in another country is generally reserved for those facing persecution in their homeland for their religious or political beliefs. Edward Snowden was offered political asylum by several countries, though none were so close an ally as Canada. And our neighbor to the north limits asylum to those who would face "torture, a risk to their life or a risk of cruel and unusual treatment or punishment" if they returned home.
Legal Babble
"Perp walk." After Peter is indicted, his attorneys negotiate the terms of his surrender with prosecutors. Obviously, Eli and Mike Tascioni want to avoid the "perp walk," where Peter is paraded in handcuffs in front of the media. Meanwhile, lead prosecutor Connor Fox wants nothing more than the spotlight of putting a corrupt governor behind bars. A tacit agreement to do it quietly is tossed aside when Fox learns Eli lied about a national security briefing, and the televised arrest becomes the episode's central image.
Legal Verdict
Well, we finally know what Alicia wants -- after Jason poses that question to her, repeatedly, she responds, "You." But can she get it? Will she? We only have three more episodes to find out.
What did you think of this week's episode of "The Good Wife"? Is the show guilty of making any legal mistakes? Check back here for more legal recaps of "The Good Wife," and send us a tweet at @FindLawConsumer with the hashtag #TheGoodWife.
Related Resources:
You Don't Have To Solve This on Your Own – Get a Lawyer's Help
Meeting with a lawyer can help you understand your options and how to best protect your rights. Visit our attorney directory to find a lawyer near you who can help.
Or contact an attorney near you: