Stripper Cleared of Charges. He May Have Shown Part Monty
If you see Sergeant Eros approaching, you'd be well advised to cover your eyes. You see, he is not your everyday officer. Nay, he is no officer at all.
He is a provider of adult entertainment. He is also a free man after facing a two day trial over public indecency charges, reports STV.
The genesis of the legal trouble was a hen party (known as a bachelorette party here in the colonies). The hen's fiancé had hired Sergeant Eros, whose real name is Stuart Kennedy, to provide a little bit of humorous entertainment to the party, which was being held at La Bamba in Aberdeen.
While the hen seemed to enjoy the show, which included stripping and simulated sex acts, the other diners were not as thrilled. One diner claimed that she thinks she saw his genitals at one point but could have been wrong. Her husband said that he was sure that he saw a peek of the man's penis. At one point, the stripper's genitals were allegedly covered by a mere handkerchief.
We're still not sure what the big deal was. After all, in a country of kilts, shouldn't they be used to a little inadvertent peek-a-boo?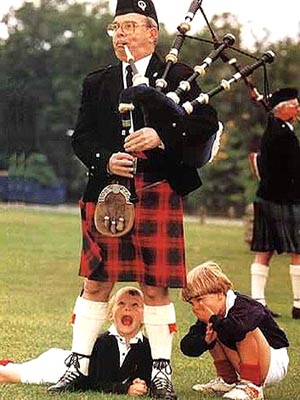 The defendant, Stuart Kennedy, also was dumbfounded. He stated that it was obvious that he was going to strip and if the complaining couple didn't want to watch, they could have looked away.
Fair enough, but did he actually violate a law by inadvertently slipping out of his gear?
Indecent exposure is governed by the common law in Scotland. There must be some sort of "lewd and indecent intention" behind the exposure, not mere carelessness. Though he was performing erotic entertainment, this is still questionable. The partial-Monty was only shown by accident, if at all, when the handkerchief slipped. The prosecution tried to argue that he was reckless with his male parts, but the court didn't buy it.
As for the offense of public indecency, according to the BBC, the simulated sex and stripping could only be a criminal offense if it puts a member of the public in a state of fear or alarm. Mild offense probably wouldn't qualify.
The complaining wife isn't even sure that she saw the man's genitals. The husband complained of a "migraine" but still managed to finish his food, complain to the restaurant, pay, and then leave. That sure doesn't sound like a "state of fear or alarm."
The Sheriff that presided over the trial declared that the Crown had not proven its case beyond a reasonable doubt. Though Mr. Kennedy is a free man, he should be cautious. Despite his warnings about looking away, the police apparently aren't. This was Sergeant Eros' twenty-fourth arrest.
Related Resources:
You Don't Have To Solve This on Your Own – Get a Lawyer's Help
Meeting with a lawyer can help you understand your options and how to best protect your rights. Visit our attorney directory to find a lawyer near you who can help.
Or contact an attorney near you: