Right to Bear Arms -- in Public? 9th Rehears Concealed Carry Case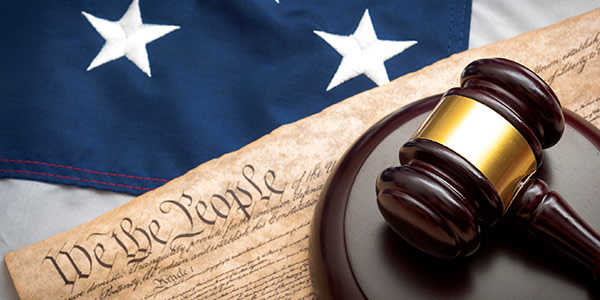 The Ninth Circuit, sitting en banc, reheard oral arguments last Tuesday in the case of Peruta v. San Diego County, a controversial challenge to California's concealed carry laws. In California, concealed carry -- the possession of a concealed firearm in public -- is generally prohibited, with permits issued only when one can show just cause for needing to take their gun out for a walk through the town square. Personal safety alone is not enough.
Two Ninth Circuit judges struck down that rule in February, 2014, holding that the "right to bear arms includes the right to carry an operable firearm outside the home for the lawful purpose of self-defense." The en banc rehearing could repudiate that decision.
A Right to Firearms in Public?
In invalidating the California's good cause policy, Judges O'Scannlain and Callahan looked back to Louisiana, Arkansas and Texas in the 1850's, as they sat on the cusp of secession. Since many state Supreme Court opinions of the time protected the right to carry weapons in public, that must be understood as part of the Second Amendment, they ruled. California's good cause restriction amounted to a "total destruction of the right to carry in public," they held.
Circuits Are Divided
The ruling put the Ninth Circuit in the midst of a sharp circuit split. Following the Supreme Court's 2008 ruling in Heller v. D.C. that the Second Amendment protects an individual right to bear arms and 2010's McDonald v. Chicago ruling that the right applies against state and local governments, circuits have been divided on how to apply those holdings to state gun regulations.
The Second, Third and Fourth Circuits have all upheld restrictions on carrying weapons in public. The Seventh invalidated Illinois' law, but recently upheld Highland Park's assault weapon ban in an opinion that rejected the sort of historical analysis the Ninth had applied.
Onwards and Upwards
The oral arguments put these debates squarely before the 11 judge panel, who will redecide the issue before it is possibly taken up by the Supreme Court -- though at the rehearing Judge Callahan noted that the Supreme Court "doesn't seem to like to talk about the Second Amendment very often."

The arguments focused not just on the substantive issues, but whether the state even had standing to appeal the lower court's verdict. The case was originally brought against San Diego, who dropped out after the initial defeat. Paul D. Clement, the former U.S. Solicitor General and long time gun control litigator, insisted the case wasn't about California's laws, just San Diego's implementation of them.
An opinion could be issued anytime, but odds are there will need to be significant deliberation over the many issues at play. When a decision is released, expect appeals to the Supreme Court to immediately follow, whatever the result.
Related Resources:
Content For You