If Something Falls on Me at a Home Supply Store, Can I Sue?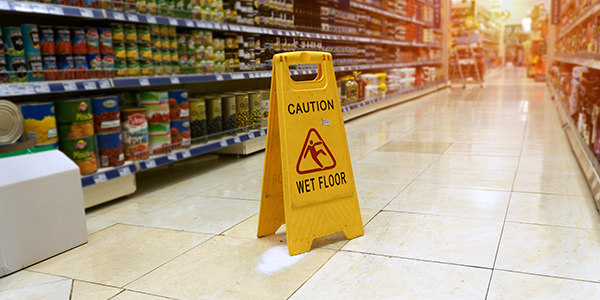 Did you ever think about all the hazards at your friendly neighborhood home supply stores? Paint could spill on the floor, and you could slip on it. You could puncture your foot on dropped nails and screws. A pretty light fixture could fall from the display, and hit you on the head!
So, if you're injured by slipping or hit by a falling object at a home supply store, can you sue?
Negligence
Usually, you would sue for an injury on the grounds of negligence. Negligence means a defendant breached a duty of care and that breach caused you harm. To successfully sue a store for an injury, you must show:
The store had a duty to protect you;
The store breached that duty;
The breach caused you harm;
You suffered damages because of the harm.
Premises Liability
To prove the first element of negligence, we turn to premises liability. Does the store have any duty to protect you?
The theory of premises liability imposes on a property owner a varying level of duty to protect people on their property from harm.
In the case of a trespasser, property owners generally owe no duty to protect, unless the property owner set a trap or the trespasser is a child. In the case of guests, property owners must take reasonable steps to warn guests of dangerous conditions. Finally, for invitees, people who come on to property for business purposes, property owners owe a high duty of care to repair known dangers, and reasonably inspect for and correct unknown dangers.
Since customers are generally classified as invitees, business owners have a duty of care to protect them from known and reasonably discoverable unknown dangers. Failure to do so would be a breach of that duty.
For example, an owner noticed that his top shelf is too full but doesn't do anything about it. A customer walks by and is hit on the head by a drill sliding off that overstuffed shelf. The business owner breached his duty. If the drill would not have fallen if the shelf was properly cleared and maintained, then the breach caused the customer's injury. The customer suffered damages in the form of medical bills and pain and suffering. So, the customer has a good case for negligence.
If you've been injured by a falling object at a home supply store, consult with an experienced personal injury attorney to evaluate your claim and file a lawsuit.
Related Resources:
You Don't Have To Solve This on Your Own – Get a Lawyer's Help
Meeting with a lawyer can help you understand your options and how to best protect your rights. Visit our attorney directory to find a lawyer near you who can help.
Or contact an attorney near you: