Let the Blogslaps Begin: 7th Circuit, Please Fix Your Website
The Seventh Circuit is known for delivering benchslaps, so much so that it's acquired the nickname "Benchslappy" (hat tip to Above the Law). Well, they're not the only slap happy bunch around, you can add us now. Let's call it a blogslap.
Why would we be handing out a blogslap? Because the Seventh Circuit website sucks leaves much to be desired, especially when compared with other circuit court websites.
Poor Layout
When was the last time you visited the website for the United States Court of Appeals for the Seventh Circuit? If you want to experience time travel, but don't own a time machine, don't worry. Just get on your favorite Internet browser and visit the Seventh Circuit's official site and you'll feel like you travelled back to the year 2000. We don't need a fancy flash website, but some updates would be nice.
Lack of Updates
One of the main updates on the site is from 2012 alerting MAC users about a download problem. While other circuit court sites have regular announcements regarding scheduling, conferences, training and job openings, on the Seventh Circuit site you need to scan the entire page for tiny red writing that says "updated."
No Uniformity
This complaint has to do with the Circuit Court sites in general -- why is there no uniformity? As a blogger that visits many different circuit court sites weekly, I've seen a vast difference in the appearance, functionality and usefulness of circuit court sites and we don't understand why the experience should differ based on the circuit. The circuits share rules of civil procedure, evidence and laws -- why aren't the websites uniform?
If you don't know what we're referring to, you should really have a look. The Google search says it all -- as you start typing the search term "seventh circ" it auto populates "seventh circle of hell" (really, we're not making this up -- see the screenshot below), which is where we sometimes feel like we are when we're navigating the Seventh Circuit website.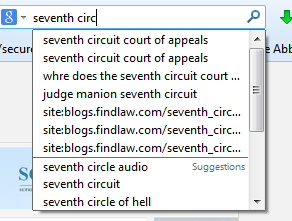 Related Resources:
You Don't Have To Solve This on Your Own – Get a Lawyer's Help
Meeting with a lawyer can help you understand your options and how to best protect your rights. Visit our attorney directory to find a lawyer near you who can help.
Or contact an attorney near you: