A Business Owner's Guide to Service Dogs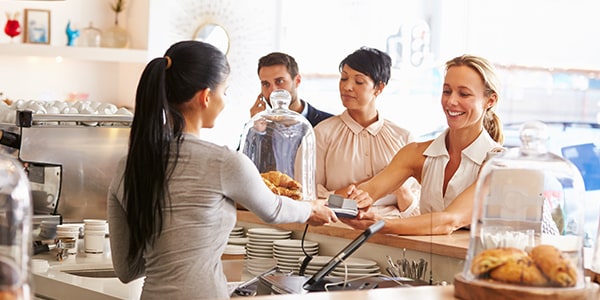 As service dogs have become more prevalent, businesses need to know how to legally handle these animals and their human counterparts.
Some common questions raised by business owners include: Is it legal to prohibit service dogs at your place of business? And what can you do if you suspect a customer's (or employee's) purported "service dog" doesn't meet the legal standard for such an animal?
Service dogs occupy an intersection of state, federal, and local laws, so businesses should take extra care to consider the following:
Not All Dogs Are Service Dogs
While many Americans enjoy the company of their dogs as pets, the federal government is very clear: a service animal is not a pet.
The Americans with Disabilities Act serves to protect the rights of disabled Americans from discrimination, and it is the controlling federal authority when it comes to service dogs.
ADA.gov, a website run by the Civil Rights Division of the U.S. Department of Justice, provides that service dogs are "individually trained to do work or perform tasks for people with disabilities." It may be difficult for a business owner to distinguish a service dog from a regular pet because federal law does not require all service dogs to wear special collars or harnesses.
However, according to ADA.gov, a business owner may ask a service dog holder two questions:
Whether the service dog is necessary because of a disability, and
What work or task(s) the dog has been trained to perform.
State and local laws may expand the definition of service dog beyond that defined by the ADA. They may also require service dogs to be certified or licensed.
Prohibiting Service Dogs Can Create Problems
It is against federal law for a private employer to have a blanket "no dogs" policy if his or her business is open to the public. Doing so not only violates the ADA but also any corresponding state and local laws which prohibit discrimination in public accommodations.
So even if you feel that your store is being mobbed by a pack of patrons and their fake "service dogs," don't try to demand that the owners show proof or documentation of their service dog's training. Even if your home state or city provides special tags to identify service animals, you cannot turn away a service animal for lack of tags or documentation.
However, businesses aren't left entirely powerless when a service animal sets foot on the premises. Service dogs can be legally ejected if they:
Are not restrained,
Pose a danger to customers (i.e., if they're snarling or growling), or
Have an accident (i.e., are not housebroken)
If you're still unsure about your small business' service dog policy, consult an experienced local business attorney to discuss your options.
Follow FindLaw for Consumers on Google+.
Related Resources:
You Don't Have To Solve This on Your Own – Get a Lawyer's Help
Meeting with a lawyer can help you understand your options and how to best protect your rights. Visit our attorney directory to find a lawyer near you who can help.
Or contact an attorney near you: