Can You Charge Customers for Tap Water?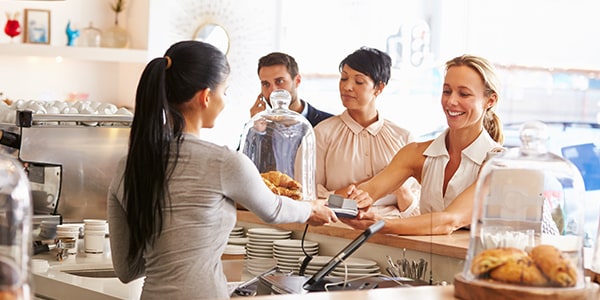 A new cafe in New York City is challenging the idea of the complimentary glass of water by charging customers $2.50 plus tax per glass.
The majority of what they sell is water.

Molecule Water Cafe serves New York City tap water that's put through a rigorous series of filtering mechanisms including ultraviolet rays and ozone treatments. The end result is still water but customers can add roots, herbs, pH, or electrolyte infusions to their glass.
NYC is known for some strange cuisine but it's also the reputed home of some of the country's best tap water. Critics have wondered what the owner is thinking charging for what is free from the tap.
Co-owner Adam Ruhf is unfazed.
New York City water may be highly regarded but it does contain some chlorine and Ruhf says he doesn't want to drink that. Molecule's seven-state filtration system strips chemicals from the water and makes it taste better, reports The Wall Street Journal.
"I mean it's subtle, but if you have a sensitive palate you can totally tell," says Ruhf.
To nay-sayers that might sound like an emperor's-new-clothes argument.
Still, love it or hate it, there's nothing legally wrong with what Ruhf is doing. A good business attorney could tell you that.
Molecule sells a value-added product and they charge for it. Even if they didn't provide the filtration system, most states don't require restaurants to provide free tap water.
The cafe is held to the same standard of truth in advertising and fair representation of its product as any other business. So long as the filtration process described is what's really happening to the water and it's safe to drink there's nothing to stop them from charging customers for the service.
Molecule water is available for cafe-goers, but it's also being sold to homeowners several gallons at a time. It seems like a pricey way to filter water given that an inexpensive in-home filtration system would be just as effective according to Nneka Leiba, a senior research analyst with the Environmental Working Group.
Molecule may do well although the company is too new to say for sure. Gourmet filtered tap water is definitely a conversation-sparking idea but it might only be possible in New York City.
Related Resources:
You Don't Have To Solve This on Your Own – Get a Lawyer's Help
Meeting with a lawyer can help you understand your options and how to best protect your rights. Visit our attorney directory to find a lawyer near you who can help.
Or contact an attorney near you: