Disparaging Trademarks No Longer Banned by Lanham Act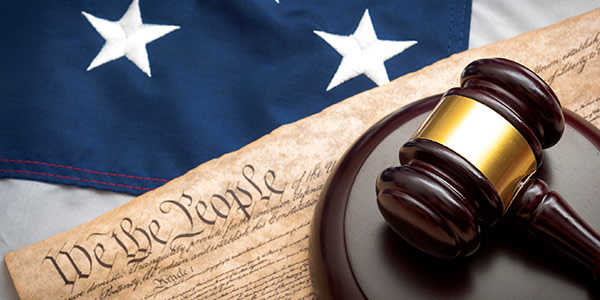 Trademark attorneys, brief your intake clerks, and tell them to get ready for the flood of unpopular clients. In a unanimous 8-0 decision, the Supreme Court held that the disparagement clause of the Lanham Act violates the First Amendment. The disparagement clause required rejection of a trademark "which may disparage ... persons, living or dead, institutions, beliefs, or national symbols, or bring them into contempt, or disrepute."
The case was brought by an Asian American music group named "The Slants" which had sought trademark protection for their controversial name. Originally, the Patent and Trademark Office denied their trademark application, and the subsequent appeal. The federal district court overturned the PTO's decision, but that ruling was appealed up to the Supreme Court. Today's SCOTUS ruling upheld the group's right to trademark protection, paving the way for other controversial "disparaging" trademarks.
Fails All Scrutiny
SCOTUS upheld the lower court's decision finding that trademarks contain expressive speech that remove them from the category of commercial speech. Due to being expressive speech, the lower court held that the application of strict scrutiny, rather than intermediate scrutiny was appropriate for determining the constitutionality of the disparagement clause. The lower court also held that even if trademarks were considered commercial speech, the disparagement clause would still fail to satisfy the relaxed intermediate scrutiny standard.
What's in a Disparaging Name?
The federal Patent and Trademark Office argued that trademark registrations constituted government speech and are not entitled to free speech protections. This argument permitted the Lanham Act's disparagement clause to pass constitutional muster, as the First Amendment protects against government intrusion on a private individual's speech, but not against the federal government's own speech. The Court specifically stated that:
If private speech could be passed off as government speech by simply affixing a government seal of approval, government could silence or muffle the expression of disfavored viewpoints.
In short, the Court found that trademarks are not government speech, and as such, the federal Patent and Trademark Office must adhere to content neutral guidelines when evaluating a trademark. Fortunately, since the Court is rarely short, the reasoning goes on to explain that:
In light of all this, it is far-fetched to suggest that the content of a registered mark is government speech. If the federal registration of a trademark makes the mark government speech, the Federal Government is babbling prodigiously and incoherently.
And in case you wondering what the Court meant by "babbling prodigiously and incoherently," fret not, as the Court provides examples:
If trademarks represent government speech, what does the Government have in mind when it advises Americans to "make.believe" (Sony), "Think different" (Apple), "Just do it" (Nike), or "Have it your way" (Burger King)? Was the Government warning about a coming disaster when it registered the mark "EndTime Ministries"?
Related Resources:
Content For You