Cardinals Fan Hit by Bullet From Outside Stadium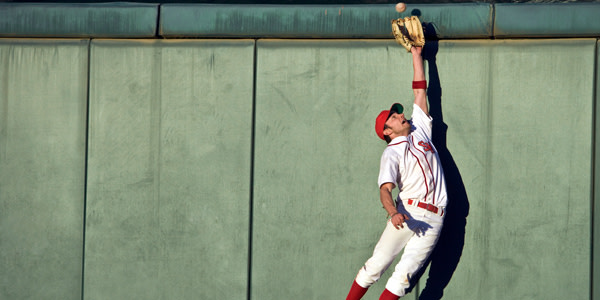 We often use sports as an escape from real life. And every now and then, real life intrudes into the games. That's what happened when a stray bullet found its way into Busch Stadium Tuesday night, grazing a female fan's arm and came to a stop underneath her seat.
Thankfully, the woman was not seriously injured, and according to the St. Louis Post-Dispatch, has already retained the services of an attorney.
Infield Bullet Rule
The victim, who, apparently on advice of her attorney, declined to speak to the press, was sitting in Section 141 near the first base line when she was struck in the elbow by the bullet. Witnesses say the woman suddenly said, "Wow, I think I've been shot," and saw blood coming from her arm. "We thought she was joking, but everybody turned around and she showed me the blood coming down from her elbow," Todd Porter, who was seated with his 13-year-old son directly in front of the victim told the Post-Dispatch. "It looked real purple and red and it looked like there was a hole in her jacket."
Police confirmed a bullet slug was found "in the immediate area around the victim's seat," and believe the bullet came from outside the stadium. Police also confirmed they received a call about shots being fired in the area near the ballpark around the same time as the woman was struck. The Cardinals also confirmed the shooting, reiterating their commitment to fan safety:
"There are millions of dollars being spent on additional security, personnel, and procedures to be protective of the fans and the experience at the ballpark," [Team President Bill] Dewitt said. "We are prepared, and we will continue to be more prepared."
Will the Baseball Rule Rule the Day?
In general, baseball teams and ballpark operators and personnel are immune from liability in fan injury cases under what's known as "The Baseball Rule," based on the premise that those fans have assumed the risk inherent in attending a live sporting event outside. Being hit by a stray bullet during a game, however, might not be as foreseeable as being struck by a ball or even a bat, and therefore the baseball rule may not apply to this woman's case.
Related Resources:
You Don't Have To Solve This on Your Own – Get a Lawyer's Help
Meeting with a lawyer can help you understand your options and how to best protect your rights. Visit our attorney directory to find a lawyer near you who can help.
Or contact an attorney near you: