'The Good Wife': Good Law? -- Season 6, Episode 21
After wallowing in defeat, Alicia is getting back on the horse and taking up the case of an old client.
Here's what you need to know from last night's episode, entitled "Don't Fail":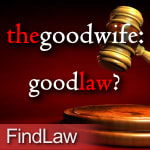 Season 6, Episode 20
"Don't Fail"
Legal References:
---
More Legal Analysis of CBS' "The Good Wife":
Prior Post in This Series:
Next Post in This Series:
Season 6, Episode 21 (Airs 05/10/15)
Episode Recap (Spoiler Alert):
At the end of last episode, Peter urged Alicia to write a memoir. This episode, she tries to consult with a ghost writer, but Alicia seems not quite ready to spill her secrets. Instead, Alicia jumps back into the courtroom to represent an old client, Brett Tatro.
Six years ago, Brett was accused of attempted murder in the beating of one, Jeff Garrix. Alicia and Cary represented him pro bono and got him acquitted. Now, Jeff has died. The prosecution claimed that doctors can link the brain hemorrhage that killed Jeff to the beating six years ago. The prosecutor now wants to charge Brett with first degree murder.
Legal Roots:
The main focus of this episode is whether or not Brett can be charged and tried for the death of Jeff Garrix after being previously acquitted for attempted murder in the same crime. Alicia argues double jeopardy.
Legal Fact:
Double jeopardy is the right to not be prosecuted for the same crime twice, as promised by the Fifth Amendment. This means that if you've been charged, tried, and acquitted, the government can't to try prosecute you for the same crime again.
Double jeopardy attaches when the jury is sworn in or, in a trial by judge, when the first witness is sworn in. If the prosecution dismisses the charges before double jeopardy attaches, it can re-charge the defendant for the same crime without violating the Fifth Amendment's protection against double jeopardy.
Legal Fiction:
When Alicia tried to deal with the prosecutor to get Brett's case dropped, the prosecutor offered a plea deal of second degree murder. Alicia flat out rejected the offer without first discussing the offer with Brett. In real life, this could be a violation of ethics rules.
Most states' ethics rules state that an attorney should communicate any settlement offers or plea deals with clients unless the client made it clear to the attorney that such an offer would be denied. Some jurisdictions, such as the District of Columbia, have even stricter rules requiring that an attorney must tell clients about plea deals, unless it was previously discussed.
Legal Verdict:
Of course, Alicia is successful in her first attempt to get back in the saddle. The judge agreed that Brett's case should be dismissed due to double jeopardy. This episode was much more focused on a legal case than the political drama of prior episodes. Hopefully, this new trend will continue in next week's season finale.
What did you think of this week's episode of "The Good Wife"? Is the show guilty of making any legal mistakes? Check back here for more legal recaps of "The Good Wife," and send us a tweet at @FindLawConsumer with the hashtag #TheGoodWife.
Related Resources:
You Don't Have To Solve This on Your Own – Get a Lawyer's Help
Meeting with a lawyer can help you understand your options and how to best protect your rights. Visit our attorney directory to find a lawyer near you who can help.
Or contact an attorney near you:
Content For You