Court Rules for Dog-Killing Cop in Judgment in Rule 50 Appeal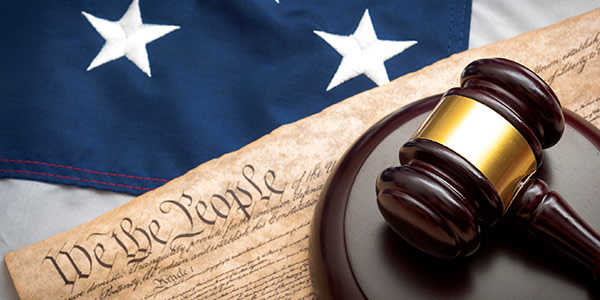 In 2006, Deputy James Carroll and other officers from the Greater Rochester Area Narcotics Enforcement Team executed a "no-knock" warrant for Sherry Carroll's home. Deputy Carroll, who was in charge of securing the entryway, was the first to enter the house.
That's when he saw a dog growling, barking, and "quickly and aggressively approaching." Once the dog had advanced to within a foot of him, Deputy Carroll fired one shot from his shotgun at the animal's head and killed him. He says Sherry was not close enough to help restrain the dog from charging at the officers.
Sherry filed a civil rights claim against the department, arguing that shooting her dog while executing search warrant was an unconstitutional seizure.
Sherry's argument was compelling, if you consider yourself pro-dog. (Full disclosure: We love puppies.)
The team knew that a dog would be present at Sherry's home, but didn't discuss a plan for controlling the dog or formulate a strategy to neutralize a potential threat by non-lethal means. Although Monroe County had a written policy prohibiting the use of lethal force against an animal unless it posed a danger to officers or other persons, the County did not formally train officers about how to handle encounters with dogs during searches. The officers testified that they never planned for non-lethal means to secure a dog during execution of a no-knock warrant.
They emphasized, however, that shooting a dog was often unnecessary during execution of a no-knock warrant when, for example, an owner is able to restrain the dog or where the dog runs away, lies down, or poses no threat to officer safety.
After a two-day trial, the jury found that Sherry failed to prove her claim. Sherry moved for judgment as a matter of law. Once again, she failed to satisfy her burden of proof.
Federal Rule of Civil Procedure 50 provides that a motion for judgment as a matter of law will be granted only if there was no "legally sufficient evidentiary basis" for the jury to find for the nonmoving party. This is a "particularly heavy burden where, as here, the jury has deliberated in the case and actually returned its verdict in favor of the non-movant." Thus the Second Circuit will set aside a verdict "only if there exists such a complete absence of evidence supporting the verdict that the jury's findings could only have been the result of sheer surmise and conjecture, or the evidence in favor of the movant is so overwhelming that reasonable and fair minded persons could not arrive at a verdict against it."
The Second Circuit panel noted, "There is no dispute that Deputy Carroll's shooting of the plaintiff's dog was a severe intrusion given the emotional attachment between a dog and an owner," but "the jury could have reasonably found that Deputy Carroll would still have needed to shoot the plaintiff's dog even if the officers had developed a non-lethal plan to restrain the dog."
Related Resources:
Content For You