Obamacare: How Small Firms Can Prepare
Though Congress is still trying to defund the Affordable Care Act, a/k/a Obamacare, for the bazillionth time, it's slated to go into effect on October 1st. As a small business, you may or may not have obligations to fulfill in a few weeks.
After reviewing the official informational site HealthCare.gov, we decided to clear away the clutter to let you know how you might prepare for the upcoming changes. Depending how you answer the following two questions, you will have different responsibilities.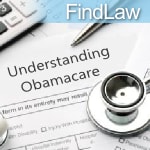 1. How Many Employees Do You Have?
If you have no employees and are self-employed, you can use the Marketplace to obtain health coverage for yourself. You may also skip to the end.
2. Do you Have Fifty or Less Full-Time Employees (Small Business)?
In 2014, a new program called Small Business Health Options Program ("SHOP") will take effect, making it simpler for small businesses to buy health insurance. If you have fifty or less full-time employees, the SHOP Marketplace is available to you. Here are some quick tips about SHOP:
You can enroll beginning October 1, 2013 for coverage beginning January 1, 2014;
You can apply yourself or through an agent or broker;
You decide how much you pay toward employee premiums and what coverage you offer to your employees;
You can compare health plans on the online marketplace;
You may be eligible for a small business health care tax credit;
You are not required to offer health coverage to your employees.
The Obamacare Letter
If you have at a minimum one employee and generate $500,000 in revenue, you must send your employees what's been dubbed the "Obamacare letter," reports Bloomberg Business. Whether you plan to offer health coverage, you must let your employees know that the new health exchanges exist.
According to American Express's OPEN Forum, the letter must include: (1) information that the exchange exists; (2) the services the exchange provides; (3) the exchange's contact information; (4) information that the employee may be eligible for subsidized coverage; and (5) the risk of losing employer contribution if individual coverage is purchased.
Since you're busy drafting legal documents for clients, the Department of Labor has been nice enough to provide you with model notices for employers offering insurance and for employers not offering insurance.
You still have time to prep for Obamacare, but when it comes to the Obamacare letter, the clock is ticking. Make sure that you send one to all of your employees, and remind your small business clients of their obligations as well.
Related Resources:
You Don't Have To Solve This on Your Own – Get a Lawyer's Help
Meeting with a lawyer can help you understand your options and how to best protect your rights. Visit our attorney directory to find a lawyer near you who can help.
Or contact an attorney near you: