And Now We're Back to Nine...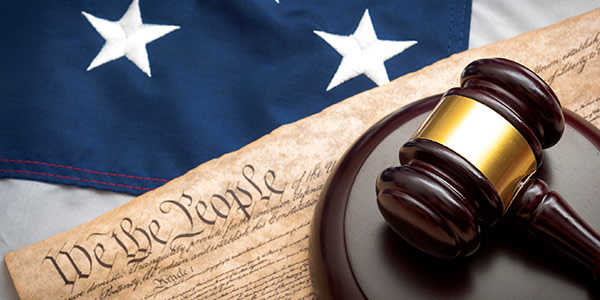 More than a year after Justice Scalia's passing, the Supreme Court is poised to return to a full nine-justice bench. Neil Gorsuch, Donald Trump's Supreme Court nominee, was confirmed by a divided Senate just moments ago. His wasn't the smoothest path to 1 First Street NE, involving a series of unprecedented conflicts -- the blocking of Merrick Garland's nomination by Republicans, the Democratic filibuster, the Senate's "nuclear option" -- but Gorsuch has made it to the bench, if a bit bruised by the journey.
Gorsuch will be sworn in on Monday, becoming the 113th justice in the Supreme Court's history. Here's what he can expect in the days and weeks ahead.
A Quick Start at the New Job
Gorsuch will have a quick transition from the Tenth Circuit to the Supreme Court. The swearing-in process will begin with a private oath administered by Chief Justice John Roberts in a morning ceremony in the Supreme Court conference room, according to the Washington Post. Later in the day, Justice Kennedy will administer the oath to Gorsuch in a second, public ceremony. That event is certain to have some sentimental power, as Justice Kennedy welcomes his former law clerk to the Court.
Then it's straight to work. Gorsuch is certain to have a busy, frenetic first few weeks, according to the National Law Journal's Tony Mauro. His first task will be hiring law clerks, likely to be either his own past clerks or his predecessor's. He'll then have to get ready for his first conference as a Supreme Court justice, reviewing cert petitions on Thursday.
Finally, oral arguments will begin the following week, and Gorsuch will be expected to dive into some big cases almost immediately. That Wednesday, the 19th, the Court will hear arguments in Trinity Lutheran Church v. Comer, a dispute involving religious freedom and repurposed tires, and one of the most anticipated arguments of the term.
A Changed Court
Gorsuch's confirmation marks a historic moment for the Court and concludes one of the longest vacancies in the Court's history. (The 420 days that will have passed since Justice Scalia's death make the delay the eighth longest ever, and the longest since the Civil War.)

In adding a 49-year-old justice to the Court, the confirmation also ensures that Gorsuch will remain a conservative vote on the Court for some time -- barring any unforeseen ideological shifts or unexpected retirements, of course. Given his young age, Gorsuch could have an almost Brandeisian tenure on the Court, leaving his mark on the law and the Constitution for three decades or more.
Will those years be marked by the ever-increasing politicization of the Court? When the next vacancy opens up will the Senate again hold the Court hostage for a year-long partisan battle? If the last year teaches us anything, the answer is "probably."
Related Resources:
Content For You