Will SCOTUS Hear DOMA Challenge During 2012 Term?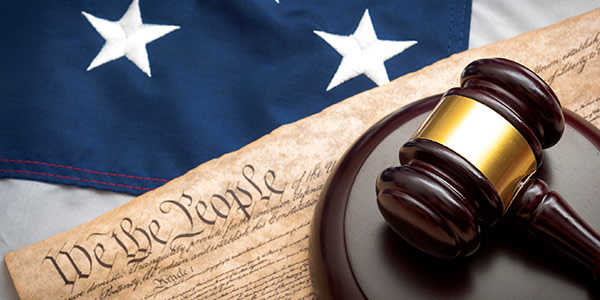 The Supreme Court just finished a blockbuster term. The Affordable Care Act challenge. The Arizona immigration law appeal. These are the kinds of cases that define the justices' legacies. Even the criminal law decisions — which arguably affect fewer Americans — were an interesting lot this year.
So how could the 2012 Term possible eclipse last year's media bonanza in terms of cable news coverage? With a Defense of Marriage Act (DOMA) challenge.
Friday, the House of Representatives Bipartisan Legal Advisory Group (BLAG) filed a petition for writ of certiorari asking the Nine to review a First Circuit Court of Appeals decision finding that DOMA is unconstitutional.
Since 1996, DOMA Section 3 -- the critical language of the Act -- has limited federal programs and benefits for marriage to legal unions of a man and a woman, reports SCOTUSblog. The Republican-directed BLAG action has asked the Court to determine whether DOMA Section 3 violates the equal protection component of the Fifth Amendment Due Process Clause, and whether the First Circuit erred by inventing and applying "a previously unknown standard of equal protection review" to DOMA Section 3.
The petition for Bipartisan Legal Advisory Group v. Gill is available here.
Though the First Circuit Court of Appeals is the first federal appellate court to conclude that DOMA is unconstitutional, decisions from the other circuits are not far behind. The Ninth Circuit will review Golinski v. OPM, another federal benefits case challenging DOMA Section 3, while the Second Circuit will likely consider Windsor v. U.S., evaluating the constitutionality of DOMA estate tax implications under equal protection laws.
The DOMA challenge could be even more polarizing that the Affordable Care Act case. There are 38 states that have limited the definition of "marriage" to heterosexual unions, many of those through ballot measures, according to the National Conference of State Legislatures. If the Supreme Court takes the case and determines that DOMA Section 3 is unconstitutional, you can expect outcry from the voters who supported the measures.
But, as Jonathan Capehart writes in The Washington Post, part of Chief Justice John Roberts' opinion upholding the Affordable Care Act could be used to uphold DOMA.
Chief Justice Roberts wrote in the ACA opinion, "Our permissive reading of these powers is explained in part by a general reticence to invalidate the acts of the Nation's elected leaders ... Members of this Court are vested with the authority to interpret the law; we possess neither the expertise nor the prerogative to make policy judgments. Those decisions are entrusted to our Nation's elected leaders, who can be thrown out of office if the people disagree with them. It is not our job to protect the people from the consequences of their political choices."
Could Justice Roberts' reluctance to overturn legislation mean that DOMA would survive in the 2012 Term?
Related Resources:
Content For You