Legal Advice From Cris Carter: Have a Fall Guy in Your Crew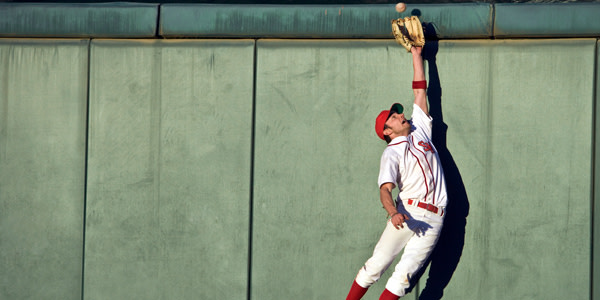 Cris Carter, who is a former all-pro wide receiver, current NFL broadcast personality, Hall of Famer, and most certainly not an attorney, nevertheless had some sage legal advice for NFL noobs at last year's rookie symposium: "If y'all got a crew, you got to have a fall guy in the crew."
Children, listen to your elder, who was banned his senior season in college for signing with an agent, cut from his first pro team for drug and alcohol abuse, and seemingly has no idea how the criminal justice system works.
The Fall Guy (Not Just an '80s TV Show)
Here are Carter's remarks in full, glorious, Warren Sapp-laughter-inducing glory:
The meat of his argument: "Y'all not going to all do the right stuff now. So I've got to teach you how to get around all this stuff, too. If you're going to have a crew, one of them fools got to know he going to jail. We'll get him out."
That sounds reasonable enough. If you're going to create an elaborate Ponzi scheme, drive while high, knock out your fiancee, whip your toddler with a tree branch, rape dozens of women, or execute your fiancee's sister's boyfriend, you're gonna need someone to eat that charge for you.
The Other Guys (Not Just a 2010 Buddy Cop Film)
Here's the thing about taking legal advice from Cris Carter, Esq.: the whole fall guy thing really doesn't work. Just ask Aaron Hernandez, who had two buddies with him when he shot Odin Lloyd, neither of whom stepped up to the plate and took the charge for him. And it's not just a lack of willing fall guys, there's also the small matter of competent police and prosecutorial work.
Even if you've got a fall guy in your crew, and he's willing to go to jail, the cops may not be so keen on the idea. The police are there to investigate crimes, and, as Law and Order told us, the prosecutors are there to convict criminals. Neither of these jobs entails arresting and convicting innocent parties or playing along with Cris Carter's fantasies about monkeying with the criminal justice system.
So rookies, here's some advice: Don't call Cris Carter from jail; don't hire Cris Carter as your attorney; and don't try to have a member of your crew take the fall for your crime -- it doesn't work.
Follow FindLaw for Consumers on Facebook and Twitter (@FindLawConsumer).
Related Resources:
You Don't Have To Solve This on Your Own – Get a Lawyer's Help
Meeting with a lawyer can help you understand your options and how to best protect your rights. Visit our attorney directory to find a lawyer near you who can help.
Or contact an attorney near you:
Content For You