NFL's Chad Ochocinco Deep-Sixes Made-Up Name for Fiancée's Sake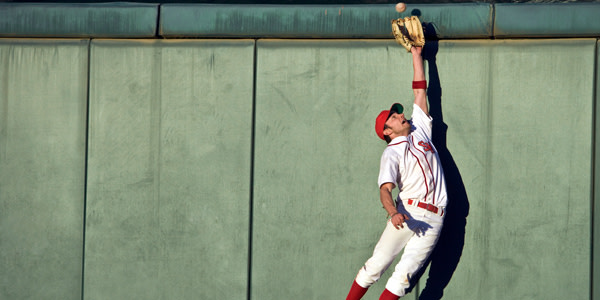 New England Patriots receiver Chad Ochocinco is deep-sixing (or should we say, deep-seis-ing?) his made-up last name. And he's doing it for the sake of his reality TV-star fiancée.
Chad Ochocinco, born Chad Javon Johnson, revealed his latest name-change plans in response to a fan's Twitter mention, a Sports Illustrated blog reports.
"I just notice (sic) I got bout 5 @ochocinco jerseys signed sitting on the wall," the fan said in a tweet.
"Take them down, i'll be Johnson on july 4th," Chad Ochocinco/Johnson replied in a retweet, according to SI.
Some may be skeptical about Ochocinco's claim.
Chad Ochocinco told ESPN in January 2011 he was changing his last name back to Johnson, but cited financial issues when he didn't follow through.
Ochocinco also announced online in 2009 that he planned to legally change his last name to "Hachi Go" -- the Japanese words for "ocho" and "cinco." But he eventually said sayonara to that plan as well.
Chad Johnson legally became Chad Ochocinco in 2008, after using the name informally for nearly two years. "Ochocinco" refers to the digits on Johnson's jersey number, 85.
Courts usually allow people to legally change their names, so long as it's not to avoid criminal or financial liability. Intimidating and obscene names are also generally not allowed. Some states don't even require a court order for a legal name change.
In Ochocinco's case, he's citing his upcoming marriage to "Basketball Wives" reality-TV star Evelyn Lozada as the reason for reverting to his birth name Chad Johnson. He doesn't want Lozada to have a made-up last name, the website TMZ reports.
Chad Ochocinco, of course, isn't the only sports star to have scored a legal name change in court. The NBA's Ron Artest petitioned to become Metta World Peace in 2011 as a way to inspire fans and raise awareness about mental-health issues.
Related Resources:
You Don't Have To Solve This on Your Own – Get a Lawyer's Help
Meeting with a lawyer can help you understand your options and how to best protect your rights. Visit our attorney directory to find a lawyer near you who can help.
Or contact an attorney near you: