Ohio State Legend Chris Spielman Sues School Over Use of Likeness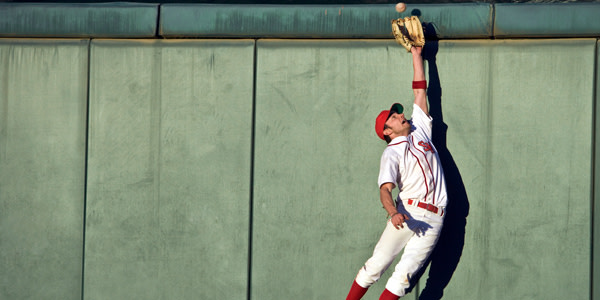 The debate over compensating college athletes has raged for decades. And while the idea of paying student athletes a wage for playing a sport (or even allowing them to receive anything of value beyond a scholarship) remains dead on arrival, the notion that players should be compensated for their likeness has been gaining traction recently.
Last year, the Ninth Circuit ruled that the NCAA can't deny student athletes "the monetary value of their names, images and likenesses when used for commercial purposes." Given that colleges and universities were ordered to set aside money for the use of player likenesses until they graduate, the ruling ostensibly applied to athletes while they are enrolled in school. But what about before or after?
We may soon find out, as former Ohio State linebacker Chris Spielman has filed a lawsuit against the school and corporate partners Honda, Nike, and IMG College, LLC over the use of his name and image on banners displayed at venerable Ohio Stadium.
Dotting the "I"
Spielman's playing days at Ohio State ended in 1988, but the school's use of Spielman's name, image, and famous number 36 continued. As noted by the Washington Post, a banner bearing a photo of Spielman in uniform along with a Honda logo was flying at the school's "Horseshoe" stadium as recently as last football season. This, according to Spielman's lawsuit, was done "without providing just compensation [and] without obtaining ... consent."
Spielman is suing on behalf of himself and 63 other former Buckeyes, whose likenesses were also used without consent or compensation. The suit seeks an injunction against Ohio State and IMG College from continuing to profit from the use of identities of current and former Ohio State players without first negotiating those rights, as well as monetary damages to former players for past usage. (Spielman told the AP that he would donate any money received from the lawsuit to the school's athletic department.)
Crossing the "T"s
Although the case would seem easy to decide following the Ninth Circuit's ruling in favor of former UCLA basketball star Ed O'Bannon, Sports Illustrated's Michael McCann notes that "O'Bannon's victory is persuasive authority in Ohio, but it is not binding precedent." Meaning the Sixth Circuit could decide the case differently. McCann also predicts that more lawsuits similar to Spielman's could follow, perhaps even inviting the Supreme Court to weigh in.
The NCAA and its member institutions have long held that student athletes are unique, and essentially have no right to be compensated for their play on the field or their names or images off of it. But that could soon be changing.
Related Resources:
You Don't Have To Solve This on Your Own – Get a Lawyer's Help
Meeting with a lawyer can help you understand your options and how to best protect your rights. Visit our attorney directory to find a lawyer near you who can help.
Or contact an attorney near you: