Police Investigate Jets Fan Who Punched Woman After Patriots Game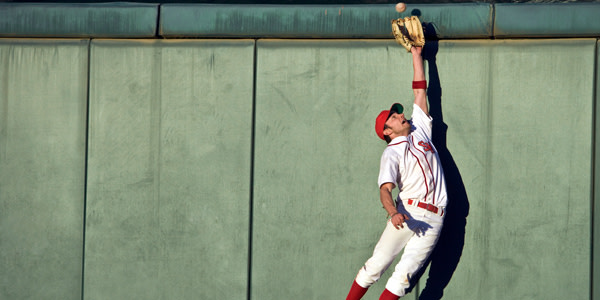 After the New York Jets narrowly beat the New England Patriots in Sunday's game at Met Life stadium, a post-game brawl broke out and ended with a Jets fan punching a woman (who was a Pats fan).
The media is having a field day over the gender dynamics -- a male Jets fan who punched a female Pats fan. But as the video footage below suggests, the man could potentially argue he was acting in self defense.
Play-by-Play Brawl
In the video, you can see Kurt Paschke, the Jets fan, punching someone while another woman throws punches at him. Soon after, a Pats fan restrains and pushes Paschke out of the brawl.
Then came the turning point. After Paschke leaves the thick of the brawl, you can see two women, including the so-called "blond lady victim," re-engage Paschke by running up to him. The blond girl shoves Paschke before he deals a heavy blow to her face.
So was Paschke acting in self defense?
Self Defense: Reasonable Belief
Under the legal theory of self defense, a person has the justified right to counteract violence or force to prevent an injury or harm and to protect oneself.
In New Jersey, the defendant's reasonable belief in the necessity of using force is a requirement for the justification of self defense.
To determine whether the belief is reasonable, the trier of fact may consider the age, size, and physical condition of the parties.
In this case, the blond woman was very clearly seeking Paschke out. She shoved him and her Pats friends were surrounding him. But did the Jets fan -- a very large man -- have a reasonable belief that a punch was necessary to protect himself from the petite Pats fan? Probably not.
Remember, self defense is not available to someone who uses excessive force. A shove to the Pats fan may have been protected by self defense, but a punch probably exceeds the defense's scope of protection against battery.
Boys v. Girls: Fan-on-Fan Violence
We grew up with the old chivalrous sensibility that a man should never hit a woman, turning the woman into an instant victim. Indeed, October is National Domestic Violence Awareness month. Gendered violence, sexual or otherwise, is alive and well.
But our legal system also recognizes that women can be vicious, too.
Since all of the brawling fans were detained, the lesson here seems to be that sporting events are the great gender equalizer and turn otherwise civilized people into boorish anti-social creatures.
Grow up, boys and girls. It's a sports game.
Follow FindLaw for Consumers on Facebook and Twitter (@FindLawConsumer).
Related Resources:
You Don't Have To Solve This on Your Own – Get a Lawyer's Help
Meeting with a lawyer can help you understand your options and how to best protect your rights. Visit our attorney directory to find a lawyer near you who can help.
Or contact an attorney near you: