Summ. Judgment Affirmed in Ski Waiver, Adaptive Skier Case
"In 2008, Plaintiff, a legally blind child with cerebral palsy and cognitive delays, was severely injured while skiing at Breckenridge Ski Resort in Colorado.'
Though the mechanics of such an individual skiing may be only mildly relevant to the holding of the case, you might be curious as to how such a thing is possible. The child with special needs rides a bi-ski, which is connected via tethers to the ski instructor.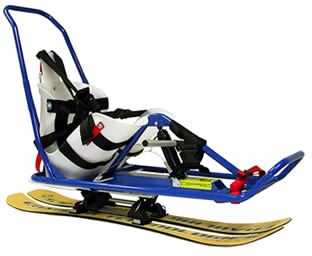 As anyone who has ever skied on a crowded mountain will testify, collisions happen. Indeed, a collision happened here (twice, technically), when a third party hit the tethers -- releasing the bi-ski on a dangerous plunge down the mountainside and into a tree.
In retrospect, putting a legally blind child with cerebral palsy on skis attached to ropes may have been unwise.
Who's bad idea was it? The ski trip was hosted by Brackenridge Outdoor Education Center (BOEC), which offers "tailored" programs appropriate for people of all abilities. You might think they'd be liable, except, as all ski resorts, baseball games, and other recreational activities do, they had a waiver.
That comprehensive waiver, signed by the minor plaintiff's mother, included everything from hypothermia, disability, and fatality, to bug bites and severe social and economic losses (no one will be your friend after you wear that to the mountain).
In Colorado, agreements exculpating a party from its own negligence are disfavored. However, the validity of such an agreement will be evaluated per Jones' four factor test:
the existence of a duty to the public;
the nature of the service performed;
whether the contract was fairly entered into; and
whether the intention of the parties is expressed in clear and unambiguous language.
Plaintiff argues, in vain, that the language was unclear. The full text of the waiver is in the court's opinion, but it met all the criteria of a clear waiver: minimal legalese, readable print, and unambiguous "you are [expletived] if you crash " language.
The plaintiff would require more, such as specific warnings that a bi-ski would be used and what the dangers of such a device are. However, Colorado law does not require such an explication of every possible activity and sources of danger in order for a waiver to be valid.
There's also a Colorado-specific question of law involving informed decisions. In 2002, the Colorado Supreme Court held that parents cannot prospectively waive negligence claims on their child's behalf. The state legislature superseded that ruling with Colo. Rev. Stat. § 13-22-107(3), which allows such waivers if the decision is "voluntary and informed."
The law regarding informed waivers is too recent to be clear, but based on a pair of state appellate court decisions, the 10th Circuit held, "consider[ing] the relevant information the parent had and was provided, that plaintiff's mother knew the type of activity that would occur at a ski resort (skiing, surprisingly enough) and the possible injuries (bug bites, hypothermia, and/or death).
Related Resources:
You Don't Have To Solve This on Your Own – Get a Lawyer's Help
Meeting with a lawyer can help you understand your options and how to best protect your rights. Visit our attorney directory to find a lawyer near you who can help.
Or contact an attorney near you:
Content For You