Voting in New York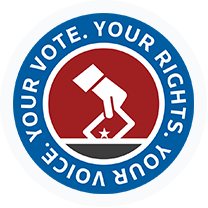 New York Voting Guide
Whether you're a first-time voter in New York or need a refresher for an upcoming election, it's helpful to get info so you can save time on Election Day. Unsure if you need to register to vote? Wondering where to go to vote? Keep reading to learn more about voting in New York.
Am I eligible to vote in New York?
You can vote in New York elections if:
You are a U.S. citizen at least 18 years of age
You have been a resident of New York for 30 days or more
You cannot vote in New York elections if:
A court has found you to be mentally incompetent
You are currently in prison or on parole for a felony (unless your rights have been restored or you are pardoned)
New York also requires voter registration in order to vote.
How to Register in New York
There are several ways to register to vote in New York. This includes registering:
In Person
Visit the county board of elections or go to any New York State agency-based voter registration center.
Over the Phone
Call 1-800-FOR-VOTE and request a voter application over the phone.
At the DMV
Visit the DMV in person to register, or use the DMV website if you already have DMV-issued identification.
New York Voting Resources
Your vote counts. Take the time to learn how and when to vote.

Protect Your Voting Rights
Contact a qualified attorney if you suspect your rights have been violated.